Long time, no post! I need to work on my Research Methods literature review, BUT I'm so excited to say I won first place with these Chocolate Cannoli Wontons at the Friends of the Library's Chocolate Contest! It makes up for the chocolate competition I entered a few years ago where they forgot to put out my entry…
Anyway, after signing up for the competition I was already second guessing my decision. I knew I had a lot of homework and I would have to actually go out, plus I hate losing but I also didn't want to have to explain why I am withdrawing. So I spent last week trying to perfect a cannoli wonton and then all day Saturday preparing at least 50 wontons for the competition. It took a lot longer than I expected, and a lot of dishes too.
I have to say I had fun at the event, … free chocolate, wine, and cheese… can't go wrong!
First Place Cannoli Wontons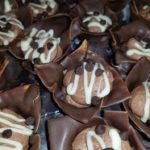 Prep time:
Cook time:
Total time:
Yield:

20

Difficulty:

easy

Recipe type:

Dessert
Ingredients:
Chocolate Cannoli Filling

1pkg of wontons

1 cup Ricotta cheese

1 cup Confectioner sugar

½ cup Unsweetened cocoa

½ tbs Vanilla

½ tbs Cinnamon

1 tbs or desired amount Lemon zest

1 cup Heavy Cream

1 pkg Candied chocolate (almond bark; I bought mine at Walmart)

1 pkg Premium white chocolate; it must be a white chocolate that has cocoa butter as an ingredient. I used Lindt white Chocolate bar.

Vegetable shortening; desired consistency

Mini chocolate chips
Directions:
Preheat oven to 350.
Place wontons into a mini muffin tray. Try to have the bottoms smooth.
Bake for 8-9 minutes. You do not want them too brown.
When finished remove from tray and allow to cool.
Next, make the chocolate for dipping.
Using the double boiler method, melt chocolate and add vegetable shortening to reach your desired thickness. (Not too thick)
Remove from stove and dip the entire wonton into the chocolate. Once coated place onto aluminum foil.
Next, in a large bowl, mix together strained Riccota cheese, confectioner sugar, cocoa powder, vanilla, cinnamon and lemon zest. Set aside.
In a separate bowl, beat heavy whipping cream until stiff and peaks form.
In two batches, fold the dry ingredients into the bowl of whipped cream. Make sure it is fully incorporated. Set aside, this is the cannoli filling.
By this time the chocolate will have hardened it is time to pipe the chocolate wontons with the cannoli filling using a piping bag or a ziplock bag with the corner cut. Spoon the chocolate into the piping bag and then fill each wonton almost to the top. Place in fridge.
For the finishing touches,
Melt white chocolate and let it cool for about a minute. Fill the piping bag and drizzle over each cannoli cup.
Place back in the fridge.
Once slightly chilled add the mini chocolate chips.
Store in fridge until ready to put out for serving.
ENJOY!
Published on by MuffinsandMeat
Tagged: Cannoli, chocolate, Chocolate Chip, decadent, dessert, Sweet treats, white chocolate