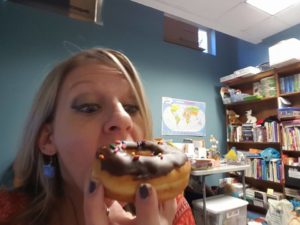 We have not published a recipe in a while, but now the semester is over and so are the holidays (Happy Festivus), so we have a few weeks to catch up on all the 'drafts' we have. The past few months were very eventful but it would take me all night to cover everything so I will give a few highlights. We went to a few of our favorite eateries in New York this past Thanksgiving. Wa Jael and Shake Shack were not disappointing, neither was the local deli. Another life-altering (not really) event, a Dunkin Donuts finally opened near us… I can now use those great gift cards I was given.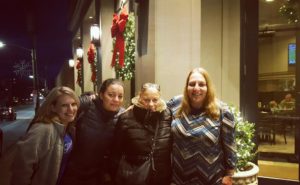 I received an A in my last class AND we both decided to do the Ancestry DNA. We found out some really cool things about both of our families and we met my 2nd cousin (my mom is adopted so this was really cool).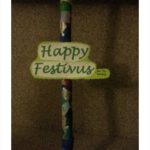 Onto the main course, these delicious chicken meatballs. Duane usually makes dinner and because of that, I wanted to make dinner for him. I saw a recipe for Kung Pao Chicken Meatballs and decided I wanted to make something similar so I made these delicious balls. We love our food very spicy, but you can alter the spice level. Pointers: do not pack your meatballs, they should be loose. If your hands become too sticky, put a little water on your hands to help.
Spicy Kung Pao Chicken Meatballs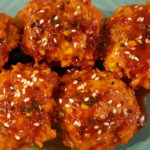 Prep time:
Cook time:
Total time:
Yield:

4

Difficulty:

easy

Recipe type:

Dinner
Ingredients:
1 pound ground chicken

1 egg

1/4 cup white flour

1/3 cup breadcrumbs + a little extra

2 tablespoon sriracha

1/2 teaspoon sea salt (we used pink Himalayan sea salt but regular sea salt works just as well)

1/2 teaspoon ground pepper

2 teaspoons minced garlic (I added garlic powder- optional)

1 tablespoon of red pepper flakes (optional)

1 tsp sriracha powder (optional)

FOR THE KUNG PAO SAUCE

4 tablespoons soy sauce

2 1/2 tablespoon sriracha

3 tablespoon chili paste

2 tablespoon honey

1 tablespoon red pepper flakes (optional)

Garnish with black and white sesame seeds (optional)
Directions:
First, preheat oven to 400ºF and spray a baking sheet with cooking spray (we use coconut). Set aside.
Next, prep meatball mixture by placing all ingredients into a large bowl and mixing until combined. Add extra bread crumbs if needed.
With your hands, scoop out mixture and mold into a ball. Do not pack firm. Keeping the ball semi-loose will keep it from becoming dense.
Bake meatballs at 400ºF for 16 minutes, flipping halfway through, or until the internal temperature reads 165 degrees on an instant read thermometer.
While the meatballs are cooking, prep the kung pao sauce, by mixing all ingredients together in a small bowl.
Once the meatballs have slightly cooled, toss in sauce.
Enjoy!
Published on by Lauren
Tagged: AncestryDNA, Asian, chicken, chicken meatball, dinner, Festivus, ground chicken, Kung Pao, meatball, spicy