It's mid summer, which means at the library it is Summer Reading Program time. With so much emphasis on STEM (science, technology, engineering, and math) in schools and in the library, I decided to make part of my first program "Solar Smores". We were going to use a box covered in aluminum foil with the top at the right angle to catch the sun, melting the marshmallows and chocolate, to create Smores. My contraption was awesome looking and surprisingly it wasn't going to rain but by the time the program was about to begin some clouds were coming in. I am now thankful for this because when I opened the box of graham crackers (that I bought the morning of) they weren't graham crackers… they were small Star War shaped graham cracker cookies. I'm thinking to myself what the hell am I supposed to do we these and feeling a small wave of panic come over me. My mind switched to the television show "Chopped" and I had an idea. There are so many times I can think of a contestant during the 'dessert' round aim for one thing, but then it ends up a deconstructed whatever it is that they wanted in the first place (i.e deconstructed Neapolitan, tiramisu, apple pie, and now S'mores). So I brought the kids back inside, put the oven on broil and gave a lesson on 'plan b' instead of how the sun is a source of energy.
The Smore's were delicious and the kids loved it and it gave the parents an idea of using the 'recipe' as a snack 'dip'. It also cures the Smore cravings I have during the winter.
Deconstructed Smores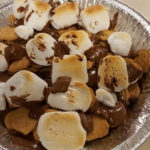 Prep time:
Cook time:
Total time:
Yield:

6

Difficulty:

easy

Recipe type:

dessert
Ingredients:
Box of graham cracker cookies (or crumble graham crackers)

Large marshmallows

Hershey Chocolate Bars
Directions:
Set the oven to 'broil'
Place graham cracker cookies (or crumbled crackers) on the bottom of the pie pan.
Add broken chocolate, marshmallows, and more graham cracker cookies.
Place in oven for about 2 minutes, enough to start melting marshmallows and chocolate. I kept my eye on the oven the whole time.
Remove from oven and add a little more chocolate and then place back in the oven until the marshmallows are at desired doneness. Again, I watched the oven the whole time.
Remove, and allow to cool just enough to eat.
Published on by Lauren
Tagged: chocolate, dessert, graham cracker, Kids in the Kitchen, marshmallow, party food, Smores, snacks