We made these Spicy Thai Curry Chicken Meatballs a few times now, but each time we would eat them before we ever got to take a picture. This time we sacrificed our hunger to take a few shots. We tweaked it a few times, but this is by far the best recipe yet. Just like many of our recipes, the spice level is to taste. Increase, decrease, or follow as directed, the heat level is up to you.
This time we ate ours over jasmine rice (a Thai rice) but any kind works, and we think it is delicious with naan too… but I mean… what isn't good with naan? Because we are trying to eat 'a little' healthier, they are also delicious without the carbs.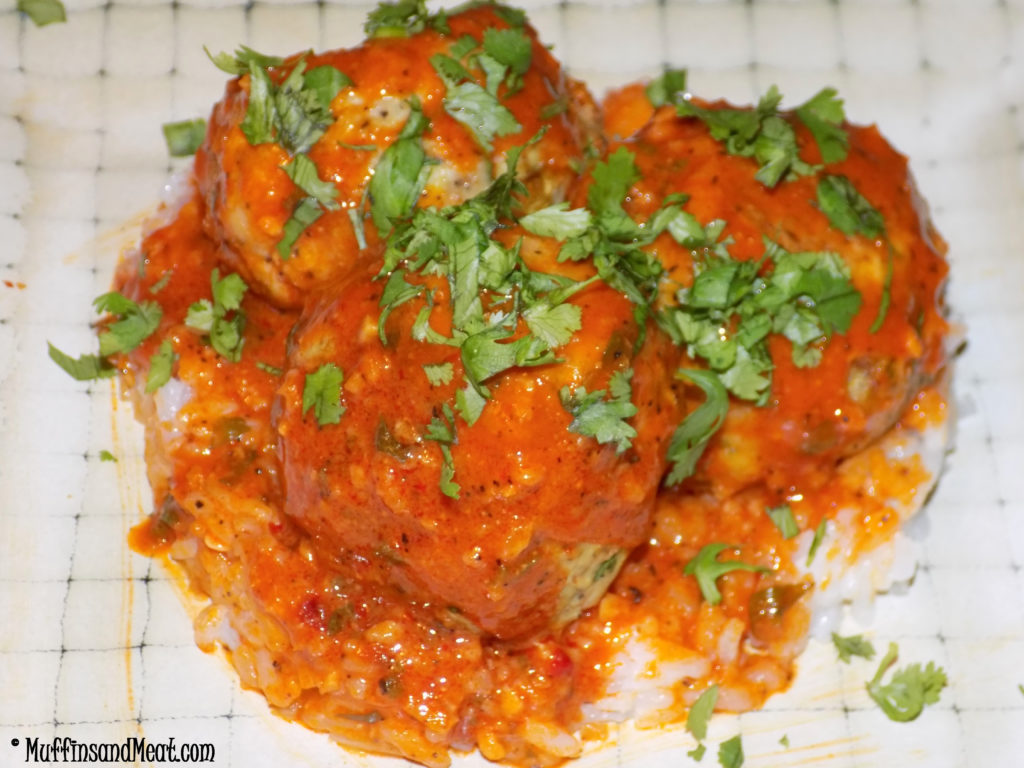 Spicy Thai Curry Chicken Meatballs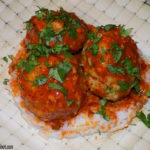 Prep time:
Cook time:
Total time:
Yield:

4

Difficulty:

easy

Recipe type:

Dinner
Ingredients:
CHICKEN MEATBALLS

16 ounces ground chicken

1/2 cup of panko breadcrumbs

6 garlic cloves, minced

11/2 tsp ginger, minced

2 habarneros (if you want less heat, use jalapenos)

1 egg

1/4 tsp salt

1/4 tsp pepper

1 tbsp crushed red pepper flakes (or to taste)

2 tbsp. cilantro, chopped

THAI CURRY SAUCE

1/2 tbs extra virgin olive oil

1 tsp ginger, minced

4 garlic cloves, minced

2-3 tbsp. concentrated red curry paste (depending on spice level)

3/4 cup coconut milk

1 tsp sriracha (or to taste)

1/8 tsp salt

1/8 tsp pepper

1/4 tsp red pepper flakes (or to taste)

1 tbsp cilantro, chopped (or to taste)

1 tbsp lime juice
Directions:
Lightly grease a baking sheet with oil.
Preheat oven to 400 degrees.
In a large bowl add all of the meatball ingredients. Mix to combine. Do not over mix.
Portion 12 meatballs.
Place meatballs on oiled baking sheet and cook for 15-20 minutes. Flip meatballs half-way through. When they reach the internal temperature of 165 degrees with an instant read thermometer remove from oven.
While the meatballs are cooking, prepare your Thai Curry Sauce.
THAI CURRY SAUCE:
Heat oil in small saucepan.
Add garlic and ginger and cook for 1 minute.
Add in curry paste and cook for an additional minute.
Whisk in coconut milk and continue whisking until thick. Take off the heat.
Stir in Sriracha, pepper, salt, red pepper flakes, cilantro, and lime juice. Set aside.
Once the meatballs are finished, remove from oven and pour the curry sauce over the meatballs. Garnish with cilantro, and ENJOY!
Published on by Duane
Tagged: Asian, chicken, Curry, Hot Peppers, meatballs, spicy