I found a recipe for Thai Red Curry Chicken Meatballs on Pinterest from the website ChefSavy.com; it looked absolutely delicious so I decided to give it a try. I made minimal changes to the recipe, added extra red pepper flakes. Next time I make it (and there will be a next time) I am adding fresh hot peppers to the dish.
Enjoy!
Entering week 5 in football, I have to say LETS GO GIANTS!
9.5 spread, Giants favored; who do you think will win?
Thai Red Curry Chicken Meatballs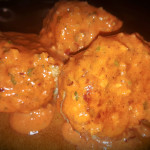 Prep time:
Cook time:
Total time:
Yield:

4

Difficulty:

easy

Recipe type:

Dinner
Ingredients:
CHICKEN MEATBALLS

16 ounces ground chicken

1/2 cup of panko breadcrumbs

2 garlic cloves, minced

1 tsp ginger, minced

1 egg

1/4 tsp salt

1/4 tsp pepper

½ tbsp crushed red pepper flakes

1 tbsp. cilantro, chopped

THAI CURRY SAUCE

1/2 tbs extra virgin olive oil

1 tsp ground ginger, minced

2 garlic cloves, minced

2-3 tbsp. concentrated red curry paste (depending on spice level)

3/4 cup coconut milk

1 tsp sriracha

1/8 tsp salt

1/8 tsp pepper

1/4 tsp red pepper flakes

1 tbsp cilantro, chopped

1 tbsp lime juice
Directions:
Lightly grease a baking sheet with oil.
Preheat oven to 400 degrees.
In a large bowl add all of the meatball ingredients. Mix to combine. Do not over mix.
Portion 12 meatballs.
Place meatballs on oiled baking sheet and cook for 15-20 minutes or until caramelized on the outside cooked through. Flip meatballs half way through.
While the meatballs are cooking prepare your Thai Curry Sauce.
THAI CURRY SAUCE:
Heat oil in small saucepan.
Add garlic and ginger and cook for 1 minute.
Add in curry paste and cook for an additional minute.
Whisk in coconut milk and continue whisking until thick. Take off the heat.
Stir in Sriracha, pepper, salt, red pepper flakes, cilantro, and lime juice. Set aside.
Once the meatballs are finished, remove from oven and pour the curry sauce over the meatballs. Garnish with cilantro, and ENJOY!
Published on by MuffinsandMeat
Tagged: Asian, chicken, Curry, dinner, Go G-Men, Hot Peppers, meatball, red curry, spicy, Thai