It is the first Football Funday Sunday and I grilled the best dinner for the celebration. The other day I was at work trying to figure out what I wanted to cook for dinner that night. I didn't want to make anything that was too time consuming or spend a lot of money on the ingredients. When I can't figure out what I want to cook, I usually browse the protein aisle until something pops out at me. I saw that bacon was on sale, and then I looked over and the chicken was too. Bacon wrapped chicken; done.
This is a quick and simple chicken dinner recipe, and the chicken is moist and full of flavor. Did I mention wrapped in bacon?
Want a bacon dessert? Check out these Chocolate Bacon Cupcakes http://www.muffinsandmeat.com/2014/04/24/chocolate-bacon-cupcakes/
Go G-Men!
Grilled Bacon Wrapped Chicken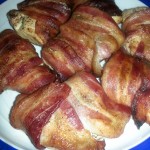 Prep time:
Cook time:
Total time:
Yield:

4

Difficulty:

easy

Recipe type:

Dinner
Ingredients:
2 lb chicken breast

1 pkg bacon

ground black pepper

garlic powder

Any extra seasonings you would like
Directions:
Light/Start grill; charcoal medium-high heat. Keep coals centered in the middle of the grate.
Clean chicken, then pound chicken until cutlets are evenly flat.
Cut chicken in half.
Sprinkle pepper and garlic powder (and any other seasonings being used) on both sides of the chicken cutlet.
Wrap chicken in bacon. If you feel it is needed, use toothpicks to hold bacon in place.
When grill is ready, place chicken around the outside of the coals so one end of the cutlet is more exposed to the heat. Cook for 5 minutes. After the 5 minutes is up, rotate the chicken so that the unexposed side is now facing the charcoals. This keeps the bacon from burning.
Flip the chicken and repeat the same process.
Once the chicken has cooked on the outside of the coals; place the chicken over the charcoal. Cook chicken for about 3-4 minutes, checking frequently to ensure bacon is not burning. Once bacon is to your liking
flip and repeat; checking your bacon frequently. Once that side is to your liking remove from heat.
ENJOY!
Published on by Duane