It feels like I made these Chewy Double Chocolate Chip Cookies forever ago (it was only last week) but I have been so busy trying to get things ready to finish applying to Valdosta State's online MLIS program. Yup, I'm trying to go for my master's. Exciting! However the application process is time-consuming. I've tried to divvy up my time between work, trying to get into school, baking and blogging, and of course spending time with Duane, so yea I'm behind.
On to these delicious cookies- SO GOOD! I think this is my new favorite double chocolate chip cookie recipe (I say that a lot, until the next batch I make, they are all good!). The recipe bakes a lot of cookies which is great, I was able to share at work and have plenty at home. I thought I had a good storage idea for the mass amount of cookies but the holder I put them in was not as air tight as I thought. With in two days the batch I put in the cake holder started to get hard, while the ones I brought to work and kept in a different container lasted 4 days.
Everyone that tried these cookie loved them, especially me, and I highly recommend making these cookies ASAP! Now back to writing essays, and don't forget May 15th is National Chocolate Chip Cookie Day!
Try one of our other Double Chocolate Chip Cookie Recipes:
http://www.muffinsandmeat.com/2013/10/18/double-dark-oreo-chocolate-cookies/
Don't forget to check out my friends Origami Owl page: hhiner.origamiowl.com
Chewy Double Chocolate Chip Cookies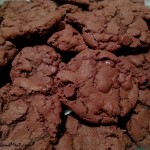 Prep time:
Cook time:
Total time:
Yield:

36

Difficulty:

easy

Recipe type:

dessert
Ingredients:
1/2 cup butter (softened)

1/4 cup shortening

1 3/4 cups sugar

1/4 cup light brown sugar

2 eggs

2 tsp vanilla

2 cups flour

3/4 cup cocoa

1 tsp baking soda

1/2 tsp salt

1 cup semi-sweet chocolate chips

1 cup special dark chocolate chips
Directions:
Preheat oven to 350 F.
Cream together butter, shortening and sugars. Add the vanilla and eggs to the mixture and beat.
In a separate bowl, sift together the flour, cocoa, baking soda, and salt; 2 times
Add the dry ingredients (1 cup at a time) until well-mixed. Fold in the chocolate chips.
Drop by teaspoonfuls onto a greased cookie sheet.
Bake for 10-12 minutes. Do not over-bake.
Remove from oven and allow to cool on tray for 5 minutes, then transfer to a cooling rack.
Published on by Lauren
Tagged: chocolate, Chocolate Chip, decadent, double chocolate