On Saturday we went over to a friend's house to have a cook-out and watch the Elite Eight games; Duane brought a delicious spicy dip and the best macaroni salad ever (link below). I brought over a batch of chocolate chip cookies. I've made soft cookies before but these are definitely the softest and thickest cookies ever. The secret ingredient in making such soft cookies is using cream cheese and butter instead of only butter.
The cookies were a huge hit (as was Florida State, YAY!) One of our friends said that to him, the cookies tasted gourmet. What a compliment! I should have known they were a hit just for the fact I brought over 22 cookies and only came home with 2…that I had hidden.
Next time I make these cookies I want to add M&M's, just because who doesn't like M&M's?
Here is another soft chocolate chip cookie recipe of ours http://www.muffinsandmeat.com/2013/10/06/softest-chocolate-chip-cookie-ever/
Duane's BEST Macaroni Salad Ever: http://www.muffinsandmeat.com/2013/03/31/the-best-macaroni-salad-ever/
This weekend is the Final Four, what kind of party food are you serving?
Adapted from AverieCooks.com
Softbatch Chocolate Chip Cookies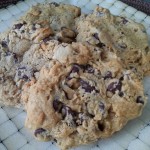 Prep time:
Cook time:
Total time:
Yield:

24

Difficulty:

easy

Recipe type:

Dessert
Ingredients:
1/2 cup (1 stick) unsalted butter, softened and at room temperature

1/4 cup cream cheese, softened and at room temperature (do NOT use light or fat-free cream cheese)

3/4 cup dark brown sugar, packed

1/4 cup granulated sugar

1 large egg

2 teaspoons vanilla extract

2 1/4 cups all-purpose flour

2 teaspoons cornstarch

1 teaspoon baking soda

pinch salt, optional and to taste

2 1/4 cups semi-sweet chocolate chips
Directions:
Line tray with parchment paper, set aside.
Whisk together the flour, cornstarch, baking soda, and salt. Set aside.
Using a standing mixer with the paddle attachment (or a hand held mixer) cream together the butter, cream cheese, and both sugars until fluffy. Add the egg and vanilla until combined.
Begin adding the flour mixture a 1/2 cup at a time, scraping the sides as needed, until the dough is well combined.
Using a table spoon, begin dropping mounds of cookie dough at least 1 inch apart on to the lined cookie sheet.
Once all of the cookies are set, slightly press down on each mound to flatten.
Wrap each tray with plastic wrap and allow the cookies to chill for AT LEAST 2 hours.
When the cookies are ready, preheat the oven to 350 degrees and remove cookies from the fridge.
Bake cookies for 8-10 minutes. Midway through you may want to press down on the cookies to flatten, they can get puffy. I did this and I believe it helped with baking the cookies evenly; and I didn't want my cookies TOO thick. When you take the cookies out of the oven they may appear to be underdone. This is okay (the cookies will continue to cook after you take them out) Allow the cookies to cook another 10 minutes on the tray (out of the oven) and then remove cookies and place them on a cooling rack.
ENJOY!
Published on by Lauren
Tagged: Chocolate Chip, Cream Cheese, dessert