It's the first weekend of March Madness and I am taking a timeout from these nail-biting, edge of your seat games to get to work on this delicious cake recipe. Crumb cake, what isn't there to like about crumb cake. Powdered sugar, cinnamon, a crumbly top with a moist cake, and if you pair it with a cup of coffee you can call it breakfast. I am not ashamed to admit it, I am guilty of buying an Entenmann's Crumb Cake and demolishing…practically solo. I haven't done that since the last time I was in New York (only reason being is they don't sell it down here) so when browsing Pinterest and saw a recipe titled "New York Style Crumb Cake", I immediately put it on the "must make ASAP list". I miss New York so when I get the chance to make a "taste" of home, I go for it.
I was really impressed by the way this cake turned out. The cake was the perfect texture and the crumbly top was delicious. It was so good, I was lucky to get pictures. Thinking about it, I have a bunch of recipes that I have made but due to eating the goods too fast I was unable to get photos. It becomes an excuse to make the treat again; wink, wink. After making this super moist New York Style Crumb Cake I am no longer mad that I can't find Entenmann's in the store. 🙂
BACK TO THE GAMES!
Want to try crumb cake muffins? Check out my recipe: http://www.muffinsandmeat.com/2013/03/16/coffee-cake-muffins/
This recipe for New York Style Crumb Cake was adapted from foolproofliving.com
New York Style Crumb Cake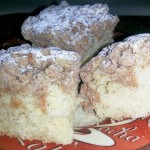 Prep time:
Cook time:
Total time:
Yield:

9

Difficulty:

easy

Recipe type:

Dessert
Ingredients:
FOR CRUMB TOPPING

1/3 cup (2⅔ oz.) granulated sugar

1/3 cup packed (2⅓ oz.) brown sugar

1 tsp ground cinnamon

8 tbs(1 stick) unsalted butter, melted and warm

1 3/4 cups (7 oz.) cake flour

FOR CAKE

1 1/4 cups (5 oz.) cake flour

1/2 cup (3 ½ oz.) granulated sugar

1/4 tsp baking soda

1/4 tsp table salt

6 tbs (3 oz.) unsalted butter, cut into small pieces, softened but still cool

1 large egg and 1 large egg yolk

1/3 cup fat-free vanilla yogurt

1 tsp vanilla extract

2 tbs confectioners' sugar for dusting
Directions:
CRUMB TOPPING:Place the sugar, salt and cinnamon in small bowl; whisk together. Add the melted butter and continue to whisk until combined. Add the flour in 2 parts; using a rubber spatula, fold until fully incorporated. Set aside.
CAKE: Place the oven rack to the upper middle position and preheat the oven to 325 F Degrees.
In the bowl of a standing mixer, fitted with the paddle attachment; mix the flour, baking soda, sugar, and salt on low speed. With the mixer running on low speed, add the butter pieces one at a time, until there are no visible butter chunks and it has a uniformed crumbly texture.
Add the egg, egg yolk, yogurt, and vanilla; continue beating until batter has a fluffy frosting like consistency.
Cut a piece of parchment paper slightly larger than the pan. Spray the pan with cooking spray. Place the parchment paper pushing it into the corners and up the sides. Let the excess to overhang the edges. This will help you get the cake out of the pan easily after it is baked. Spray the top of the parchment paper with cooking spray
Transfer the cake batter in to the prepared baking pan and distribute the batter in to the pan evenly, using a rubber spatula.
Using your fingers, break away the crumb mixture into small pebble size pieces. Evenly spread them on top of the cake batter starting from the outside corners and working your way into the center.
Bake it for 40-43 minutes, until the crumbs are golden and a toothpick inserted into the batter comes out clean.
Cool the cake (in the baking pan) for 30 minutes. Once cooled, remove it from the pan by lifting the parchment overhang. Dust it with confectioners' sugar.
Cut and serve.
Published on by Lauren