Sunday's great to pull out the slow cooker, toss in a protein, and sit back and relax the entire day. Last Sunday I picked up a pork shoulder and did just that. I've done a few different slow cooked pulled pork recipes in the past few months and I like the way this one came out the best.
One thing I recommend is after pulling apart the pork, keep it separate from its juice and onions. You can use it later to drizzle over your pork before serving and if (when) you reheat leftovers to re-moisten. I like a little crunch to my sandwich so I top mine off with my homemade coleslaw. You can find the recipe here http://www.muffinsandmeat.com/2013/02/17/spicy-honey-mustard-coleslaw/. The two compliment each other very well.
It's recipes like this that make me look forward to slow cooker Sundays.
Slow Cooked Pulled Pork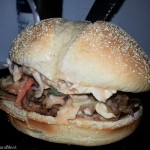 Prep time:
Cook time:
Total time:
Yield:

6

Difficulty:

easy

Recipe type:

Dinner
Ingredients:
3 tablespoons paprika

2 tablespoons salt

2 teaspoons black pepper

1 teaspoon cayenne pepper

1 teaspoon garlic powder

½ teaspoon dried thyme

½ cup honey

¼ cup red wine vinegar

3 tablespoons olive oil

1 onion, peeled and cut in half

3 to 3 ½ pounds pork shoulder, cut in half
Directions:
In a medium size mixing bowl, mix together the first six ingredients (all of the spices) with a fork.
Pour in the honey, vinegar, and olive oil and stir to form a paste.
Place the onion in the bottom of the slow cooker.
Take each half of the pork shoulder and separately dip each into the past mixture, until all sides are coated.
Place the shoulder on top of the onion in the slow cooker; pour the remainder of your paste over each half of pork shoulder.
Turn the slow cooker on to low and cook for 7 to 8 hours or until the meat is tender enough to be easily shredded with a fork.
Once it is finished, remove from slow cooker and pull apart.
Published on by Duane
Tagged: crock pot, dinner, Pulled Pork, slow cooked, spicy