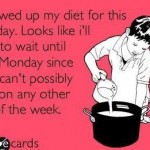 We are a week into the new year and I am so behind on what seems like everything. We pushed back our New Years resolutions, with the rationalization that it was mid-week and that our healthier lifestyle would begin on Monday (why shock the system with diet and exercise mid-week); yes I know it is Tuesday night. Another thing that is behind schedule is this post; I made this cheesecake for Christmas. One of the first posts on MuffinsandMeat was for a 5 layer cheesecake that was probably the best cheesecake I have ever eaten (and I have eaten a lot of cheesecake). I didn't have the time to do that difficult of a dessert so I made a mini version. (Check out that post: My First Cheesecake Ever, What a Success for the 5 layer recipe).
When I took the cake out of the oven I noticed that the top had cracked a bit. (Over beating the eggs can cause cracking). I got very nervous thinking that it ruined the cake, even with the ganache topping. I wanted to bring brownies for dessert too if the cake was a bust. That is the one thing about cakes, you are unable to try it in advance to know if turned out the way you wanted it to. When I served everyone and saw everyone's faces I knew that it came out perfect. A highly recommended recipe!
*If you notice the top of your cake browning, place a tent shaped piece of aluminum foil over the top for the remaining few minutes.
Cookies and Cream Cheesecake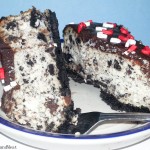 Prep time:
Cook time:
Total time:
Yield:

12

Difficulty:

medium

Recipe type:

Dessert
Ingredients:
FOR THE CAKE:

1 pkg. Oreo cookies, divided

1/3 cup butter, melted

3 pkg.8oz cream cheese , softened

3/4 cup sugar

4 eggs

1 cup sour cream

1 tsp. vanilla extract

FOR THE GLAZE:

1/2 cup heavy cream

1/4 cup sugar

125g semisweet chocolate

1 tbs butter
Directions:
Preheat oven to 325 F. Finely crush about 15-20 cookies and coarsely chop about 10 cookies; set aside. Mix finely crushed cookie crumbs and melted butter in a bowl. Press on bottom of a 9-inch springform pan; bake for 5 minutes, then set aside.
Using an electric mixer (a standing mixer is better) fitted with the paddle attachment, beat cream cheese and sugar until creamy. Add eggs one at time continuously beating until just incorporated. Over beating the eggs causes the top of the cheesecake to crack.
Add sour cream and vanilla, then fold in the chopped OREO's. Spread mixture onto the prepared crust. Bake for 55-60 minutes, or until set. Once it is set (if it jiggles a lot it is not ready; a slight jiggle it is ready) turn off the heat and allow the cheesecake to sit in the oven and cool for about 40-45 minutes. Remove and place cheesecake on the counter to cool completely.
When it is completely cool, refrigerate for at least 5 hours. I recommend over night.
FOR THE GLAZE:
Pour between a 1/4 and 1/2 cup of water into a small sauce pan and bring to a simmer.
In a stainless steel bowl (heat safe) add chocolate and butter. Place the bowl on top of the sauce pan to melt. (double boiler method, picture above). Add cream and sugar and stir until melted and combined.
Immediately pour over cake.
Enjoy!
Keep refrigerated up to 3 days.
Published on by Lauren
Tagged: Cheesecake, chocolate, Cookies 'N Cream, decadent, dessert, glaze, oreo