I make these Give Me S'more Cookies once a year, every year. In fact, this recipe was one of the first recipes posted on MuffinsandMeat. Growing up my mom always made holiday tins for friends and filled them with all kinds of delicious treats. One of my all time favorites are these cookies (minus the marshmallow, that was my brilliant idea). The smore's cookies are two Ritz crackers stuffed with peanut butter and marshmallow, dipped in candied chocolate. Since the recipe makes so many, prepare to spend a bit of time prepping the cookies. I turned on the TV, cleared a table, and started my s'more cookies
assembly line. About an hour later (1 and a half episodes of Jersey Shore) I finished the cracker prepping. Later that night I started the dipping process. Well, I didn't have enough chocolate (due to an unfortunate circumstance), so Duane went to 2 stores looking for me. No luck. I decided to drive across town to the only place open, Walmart, an hour before they closed….on Christmas Eve. I grabbed the 2nd to last package of Almond Bark (I got lucky) and got out of the madness! Once home I started the next process of the cookies, the chocolate dipping. When melting chocolate I always use the double boiler method (picture to the right). Since chocolate can burn easily if not careful, and I was melting a lot of chocolate, I decided to only do a quarter of it at a time. Yes, it takes a lot longer but it is better than ruined chocolate.
I absolutely love these simple no-bake cookies, and everyone that has tried them will agree they are addictive and delicious!
Give Me S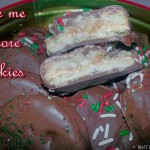 Prep time:
Cook time:
Total time:
Yield:

68

Difficulty:

easy

Recipe type:

Dessert
Ingredients:
1 box of Ritz Crackers

1 jar peanut butter of choice

1 jar of marshmallow fluff

1 1/2 lbs candied chocolate (almond bark)

2-3 tbs (depending on your desired consistency) vegetable shortening
Directions:
Line a baking tray with wax paper, set to the side.
Take a roll of crackers and spread peanut butter to each cracker and set on the tray. Amount of peanut butter is up to you.
Take a second roll of crackers and spread marshmallow fluff on each cracker and place on top of the peanut butter cracker so you have a sandwich. Repeat with the last two rolls if you want the full 68.
Once all of the crackers are finished, cover tray with aluminum foil or plastic wrap and place in the refrigerator.
For melting chocolate I use the double boiler method (picture above).
Chop the chocolate bark in to small pieces. Place about a 1/4 of the chocolate in a stainless steel bowl. Simmer boiling water in a small sauce pan and place the stainless steel bowl on top. Keep the bottom of the bowl from touching the water. Once the chocolate starts melting, add shortening a teaspoon at a time. Once the chocolate is to your desired consistency, pour in to a bowl that will be easy for dipping the crackers. Remove about 10 cracker sandwiches from the refrigerator at a time and dip them in to the melted chocolate until completely covered. Place on the wax paper. If you are using sprinkles, you have to decorate as soon as you take the cracker out of the chocolate, or at least before the chocolate starts to harden.
Repeat this process until all of your crackers are finished.
ENJOY, and prepare to become addicted!
Store in the refrigerator.
Published on by Lauren
Tagged: chocolate, dessert, holiday, marshmallow, Peanut butter, simple