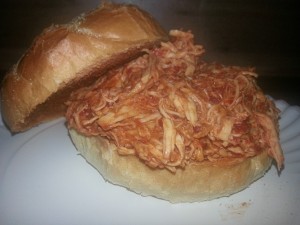 Up until recently I had not made anything in a slow cooker (aka crock pot) in quite a while. A few weeks ago, Lauren sent me a pin from Pinterest for spicy slow cooked chicken. I made it and I did not care for it too much. The sauce had too strong of a ketchup taste; I am not one for tomatoes.
A few weeks passed, and last Sunday I decided to create a recipe for spicy slow cooked chicken. It is definitely a winner and will be made often.
We use a 5 oz slow cooker, if using anything larger you will need to adjust the amounts.
Spicy Slow Cooked Chicken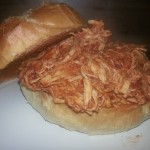 Prep time:
Cook time:
Total time:
Yield:

8

Difficulty:

easy

Recipe type:

Dinner
Ingredients:
4 boneless chicken breasts, at least 2lbs

8 oz hot salsa

1 7oz can chipolte peppers in adobe sauce

2 tbs sriracha sauce

2 tbs chili garlic sauce

2 garlic cloves, minced

1 tsp cumin

pinch of salt
Directions:
In a blender or food processor, mix together salsa,chipolte peppers in adobe sauce, sriracha sauce and chili garlic sauce until it is well blended.
In a slow cooker, make a thin layer of sauce on the bottom. Place the chicken in the crock pot and pour the remaining salsa mixture over top. Add minced garlic, cumin, and salt.
Put the cover on the crock pot and cook chicken on low for 5 hours. Around 4 and 1/2 hours take chicken out and shred the chicken. I used 2 forks to pull it apart. Once it is pulled, put the chicken back in the crock pot for the remaining time.
Published on by Duane
Tagged: dinner, Hot Peppers, sandwich, slow cooked, spicy