I'm behind on posting this recipe; Lauren and I went to New York for the Thanksgiving holiday and had so much fun. There was so much good food involved on our trip, I can not wait to go back. The Sunday before we left, I was thinking about making jalapeno poppers but I decided to turn it into a wonton. I used 3 kinds of hot peppers, but you can alter the amount and kind of pepper to your preference. I also used Italian cheese, but that is because it was what we had, and we wanted to use up everything before we left for New York. I liked the Italian cheese but next time I'm going to try it with a sharp cheddar. I have to say, making the wontons, was a lot of fun.
I brought thirty wontons to work that Monday and only came back with two, and those came back because people didn't want to be "that' person taking the last ones. One of my coworkers said "It's hot as hell, but I like it, and I want more!" Everyone that tried them, loved them and it is definitely a favorite of mine!
There are endless possibilities of things you can make to fill a wonton, and once the amount of ingredients becomes too large to fit into a wonton….make an egg roll!
Spicy Firecracker Wonton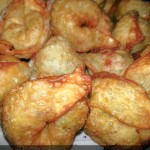 Prep time:
Cook time:
Total time:
Yield:

30

Difficulty:

easy

Recipe type:

Appetizer
Ingredients:
4 Jalapeno peppers

4 Sorano peppers

3 habanerro peppers

8 oz package cream cheese, softened

8 oz shredded cheese (your choice of type)

14 pieces of cooked bacon

1 package of wonton wrappers (at least 30)

Oil for deep fryer
Directions:
Dice peppers and chop bacon in to bits.
Mix softened cream cheese and shredded cheese with hand mixer. Once cheeses are combined, add peppers and bacon. Combine thoroughly.
Take a wonton, put a tablespoon of cheese filling, brush all 4 edges of the wonton with water.
Fold 2 opposite corners together, forming a triangle. Press edges to seal. Pull the right and left corners of folded triangle down and below folded edge so they overlap slightly. Moisten and pinch together.
Heat deep fryer to 350 degrees. Fry 2 to 3 at a time in mini fryer for 1 to 1 1/2 minutes until crisp and golden.
Enjoy!
Published on by Duane
Tagged: Asian, Bacon, Cream Cheese, crispy, Deep Fry, Hot Peppers, Jalapeno