Last week Duane and I had our birthdays and we celebrated by having dinner last Friday at my mom's house. My mom, whose birthday is this week, made lasagna (Duane got a night off from cooking) and I made REESE'S cheesecake cupcakes, chocolate chunk cookies, and her present (shown to the left). It was a wonderful dinner!
I have baked something like these cupcakes not too long ago, Reduced Fat Reese's Cheesecake (recipe can be found on this site). I'm not sure which I like best, they are both delicious. This recipe originated from insidebrucrewlife.com, but I made a few changes to it. Her site is also where I found the first Reese's cheesecake bites I made (great site). if you are a big REESE'S fan, you will love these cupcakes. Chocolate, Reese's Peanut butter Cups, and cheesecake. Enough said!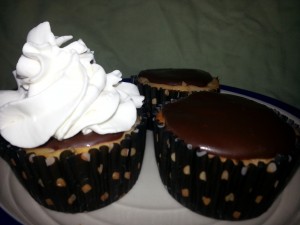 REESE'S Peanut Butter Cheesecake Cupcakes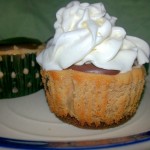 Prep time:
Cook time:
Total time:
Yield:

18

Difficulty:

easy

Recipe type:

Dessert
Ingredients:
2 (8 oz. each) cream cheese, softened

1/2 c. sugar

2 eggs

2 tbsp. sour cream

4 tbsp. honey

1/2 cup peanut butter

18 Reese's Peanut Butter cups, regular sized

1/2 cup whipping cream

1 cup chocolate chips

9 Oreos

Reddi Whip
Directions:
Line cupcake tray with liners. Split 9 Oreos so you have 18. Place 1 of the Oreo halves in each cupcake liner. Place a large unwrapped peanut butter cup on top of the Oreo. Set aside.
Beat cream cheese until very creamy. Add the sugar and beat on low until fluffy. Add in the eggs, sour cream, honey, and peanut butter. Beat until well combined.
Spoon enough batter over top to fill the liners 3/4 full. Bake at 350* for 20-22 minutes. Cool in pan for about 15 minutes, then carefully remove to a wire rack to finish cooling.
Place in the refrigerator for at least 3 hours.
Using the double boiler method, heat whipping cream, and stir in chocolate chips. Continue stirring until chips are completely melted. Top each cheesecake with a generous spoonful. Refrigerate. Before serving, top with cool whip.
Published on by Lauren
Tagged: Cheesecake, chocolate, Chocolate Chip, cupcakes, decadent, dessert, oreo, Peanut butter, Reece's Peanut Butter Cup