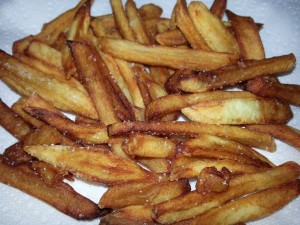 We love french fries, and I have tried to make some that are on the same crispy level as fries that you find at fast food joints. I found this recipe in an old deep-fry cookbook, Deep Fry Cookery, and it surprisingly has some really good recipes. This is the recipe for traditional french fries; there are also recipes or natural french fries, kitchen french fries, delta french fries (Lauren won't eat those) and a few others that look interesting.
The fries came out darker in color than what I wanted them to, but I believe that is due to the kind of potato I used. Even though they were dark in color, they were not over cooked. One thing to remember when cooking them is not to over crowd the basket. These have to be the best homemade french fries I have ever had.
We both really enjoyed these very simple and quick french fries. With the way Lauren and I were picking on them, I am surprised we had any left come dinner time. These will be made very often!
Traditional Deep Fry French Fries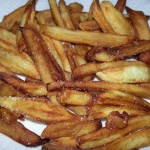 Prep time:
Cook time:
Total time:
Yield:

3-4

Difficulty:

easy

Recipe type:

side
Ingredients:
2 medium potatoes

water

oil (you can substitute shortening)

sea salt to taste
Directions:
Peel potatoes.
Cut in 1/4 to 1/2 inch thick strips.
In medium bowl, soak potato strips in cold water for 30 min, changing water once. Drain. Pat dry with paper towels.
In a deep fryer, pre-fry 8-10 strips (keep potatoes from over lapping) at a time in hot oil, 1 1/2 to 2 minutes. Drain; let stand to cool at least 10 minutes.
Just before serving, fry again in hot oil 5 minutes or until golden brown and done inside. Drain. Sprinkle with sea salt to taste and serve hot.
Published on by Duane
Tagged: crispy, Deep Fry, dinner, easy, fries, potatoes, simple