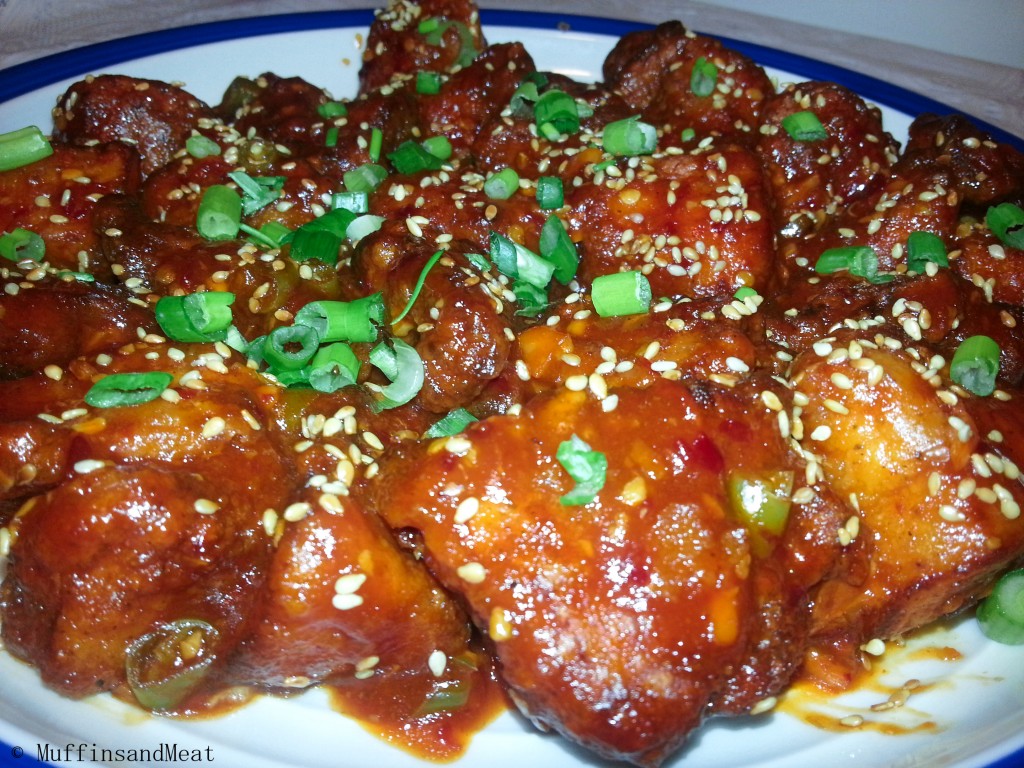 Awhile back I made some awesome General Tso's Chicken, and I decided I wanted to play around with the recipe and come up with a hot and spicy chicken. What I really loved about the General Tso's was the crispness of the breading, so with this Chinese Chicken I cooked it the same way.
I made this recipe twice, the first time some friends came over mid way and from the moment they stepped through the door, they could not stop coughing. I couldn't help but laugh, just a little. The second time I made this recipe I went to the grocery store to pick out the hot peppers; I was tempted to buy the ghost chilies, but I stuck with Thai chilies and I added 2 Habanero peppers; make sure you add their seeds if you want to keep the heat! (I will use ghost chilies next time). My goal for next time is to increase the hotness, and I believe the ghost chilies will do the trick.
If you love spicy food, you need to try this chicken; you will not be disappointed!
*if you like spicy but want to tone it down, use jalapeno or Thai chilies.
Hot as Hell Chinese Chicken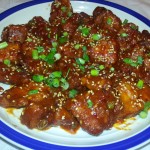 Prep time:
Cook time:
Total time:
Yield:

4

Difficulty:

easy

Recipe type:

Dinner
Ingredients:
1lb boneless, skinless chicken breasts

MARINADE

1 tbs low sodium soy sauce

1 tbs Chinese rice wine or dry sherry

1 tbs sriracha

1 tbs chili paste

2 large egg whites

1 tsp white sesame seeds

SAUCE

1/4 cup chicken stock

1 1/2 tbs chilli paste

1 tbs low sodium soy sauce

1 tbs white rice vinegar

1 tsp hoisin sauce

1 tsp chili sauce

1 1/2 tbs sriracha

1 tsp sesame oil

1 tbs sugar

1 tsp cornstarch

1 1/2 cups cornstarch

1/2 tsp salt

1/2 tsp freshly ground black pepper

3 cups of peanut or vegetable oil for frying, plus 1 tbs for stir-frying

6 Thai chilies, finely chopped. Save seeds.

2 habanero peppers, finely chopped. Save seeds.

2 cloves of garlic, minced

Scallions, green parts only, thinly sliced
Directions:
MARINATE THE CHICKEN: In a large bowl, combine the soy sauce, rice wine, sriracha, chili paste and egg whites. Add the chicken and stir gently to coat. Let stand at room temperature for 10 minutes.
In a small dry pan, toast the sesame seeds for about 1 minute, until they become lightly brown and aromatic. Transfer to a dish and set aside.
PREPARE THE SAUCE: In a small bowl, combine the chicken stock, chili paste, soy sauce, rice vinegar, hoisin sauce, chili sauce, sriracha sesame oil, sugar, and cornstarch. Stir until the sugar and cornstarch are dissolved. Set aside.
Toss the 1 1/2 cups cornstarch with the salt and pepper in a large bowl or deep plate. Coat the marinated chicken in the cornstarch mixture and shake off any excess before frying. Set the temperature of the deep fryer at 350 deg
If you do not have a deep fryer: Heat the oil in a wok or heavy-bottomed pot until it registers 350F on an instant read thermometer, or about medium heat.
Working in 2 or 3 batches, add the first batch of chicken cubes and deep fry until lightly golden on the outside and cooked through, 3 to 4 minutes. Remove the chicken with a slotted spoon and drain on a plate lined with paper towels. Repeat with the rest of the chicken. (Optional: To get the chicken extra crispy, allow the chicken to drain and cool for 5 minutes, then put the chicken back in the wok or deep fryer to fry for about another 30 seconds, until golden brown.)
Heat the wok or skillet over medium-high heat until a bead of water sizzles and evaporates on contact. Add the remaining 1 tbs oil and swirl to coat the bottom. Add the Thai chilies, habanero peppers (and their seeds) and garlic, stir fry until tender and fragrant. Pour in the sauce mixture and heat briefly to thicken.
Return the chicken to the wok and stir well to coat with sauce. Transfer the chicken to a serving dish. Garnish with the toasted sesame seeds and scallions and serve.
Published on by Duane
Tagged: Asian, Chillies, crispy, Deep Fry, dinner, Hot, spicy