Right before Duane and I headed to the beach for our 1 year anniversary, we decided to make our own Stromboli. Coming from an Italian background, I would say that Italian food is my specialty, so I was really excited to make our own pizza sauce. I have a recipe for homemade tomato sauce for pasta, that is to die for (I got it from my grandma) but that will never be posted. Good news for everyone is that we created a pizza sauce that we are willing to share.
We used Red Pack for our paste, unfortunately where we live they do not sell that brand. We bought a bunch of cans when we were in NY last, and we are looking into ordering them online. Yes, that brand is that good. If you live in an area that does sell Red Pack, I highly recommend buying it.
I absolutely love this sauce; I really wish I could bottle it up and put it on grocery store shelves!
Our Homemade Pizza Sauce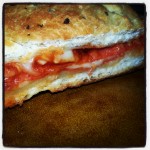 Prep time:
Cook time:
Total time:
Difficulty:

easy

Recipe type:

Sauce/Marinade
Ingredients:
1 8 oz can tomato sauce (we used Red Pack)

1 6oz tomato paste (we used Red Pack)

2 minced garlic cloves (1 tsp)

2 tbs olive oil

1 tbs butter; softened

1 bay leaf

1/4 tsp oregano

1/2 tsp Italian seasoning

1 tsp red pepper flakes (if you like spicy add 1/2 tsp)

1/3 tsp salt

1/3 tsp sugar

1/2 tsp black pepper
Directions:
In a large sauce pan, pour in the sauce, paste, olive oil, and butter. Add the minced garlic and bay leaf. Stir.
Add the salt, sugar, and black pepper. Stir.
Add the remaining herbs and spices. Stir.
Place sauce pan on burner set on simmer for 45 minutes, stirring often.
Published on by Lauren
Tagged: Italian, pizza, tomato sauce