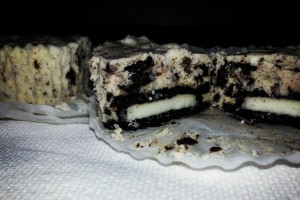 I recently read an article on BuzzFeed.com called "31 Fun Treats To Make In A Muffin Tin". There were some really good (and bad) ideas, and 2 weekends ago I tried S'mores Cookie. I wasn't very impressed with the way they turned out and wasn't quite sure about trying another muffin pan treat. On MarthaStewart.com I found an OREO cheesecake cupcake recipe that looked delicious, they made me think of white chocolate Reese's Cups. So I decided to give them a shot.
The best part about this recipe is that it is quick and easy. Sometimes there is time to make a cake that takes 24 hours to chill and sometimes there's not. These cupcakes are better when eaten within a few hours after chilling, the longer they sit, the softer the oreo gets. The recipe also makes a large quantity so it is great for larger parties.
I almost forgot to mention… they are low-fat too (you would never know)!
Shelf life: 3 days
Cookies and Cream Cheesecupcake Bites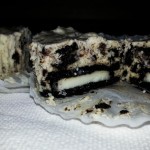 Prep time:
Cook time:
Total time:
Yield:

32

Difficulty:

easy

Recipe type:

Dessert
Ingredients:
42 reduced-fat cream-filled sandwich cookies, such as Reduced-Fat Oreos, 30 left whole, and 12 coarsely chopped

2 pounds light cream cheese, room temperature

1 cup sugar

1 tsp vanilla extract

4 large eggs, room temperature, lightly beaten

1 cup low-fat sour cream

Pinch of salt
Directions:
Preheat oven to 275 degrees. Line standard muffin tins with paper liners. Place 1 whole cookie in the bottom of each lined cup.
With an electric mixer on medium high speed, beat cream cheese until smooth, scraping down sides of bowl as needed. Gradually add sugar, and beat until combined. Beat in vanilla.
Drizzle in eggs, a bit at a time, beating to combine and scraping down the sides of the bowl as needed. Beat in sour cream and salt. Stir in chopped cookies by hand.
Divide batter evenly among cookie-lined cups, filling each almost to the top. Bake, rotating pan halfway through, until filling is set, about 25 minutes. Transfer to wire racks to cool completely. Refrigerate at least 4 hours (or up to overnight). Remove from tins just before serving.
Published on by Lauren
Tagged: Cheesecake, Cookies 'N Cream, Cream Cheese, cupcakes, dessert, low-fat, oreo