I'm the youth service coordinator at the library, and one of the youth programs I organize is the Teen Advisory Board (TAB). Some of the things the teens do around the library are:: creating displays, decorating the Young Adult area of the library, YA book suggestions, and helping to make the library more appealing to the youth. Recently the group has shown an interest in starting a book club; and I thought, having a bake sale would be a great way for them to earn the money (I was right!).
For the bake sale I made Reese's Peanut Butter Cup Cookies, Coffee Cake Muffins, and Cinnamon Buns. It was Duane's idea to make the mini's. (Great idea!)
When I made the cinnamon buns a few months ago I used bleached all-purpose flour; this time around I used unbleached. From now on I will always use unbleached flour when baking breads and pastries, there really is a difference! I also used a different brand of dry active yeast, this time we used Fleischmann's, and I thought that they tasted better this time around.
I absolutely love these breakfast treats and I wouldn't change a thing about them!
Mini Cinnamon Buns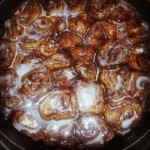 Prep time:
Cook time:
Total time:
Yield:

approx 70 mini cinnamon buns

Difficulty:

medium

Recipe type:

Breakfast
Ingredients:
2 (.25 ounce) packages active dry yeast (we used Fleischmann's)

1/2 cup warm water 110 degrees

1 1/4 cups buttermilk, room temperature (we used low-fat)

2 eggs

5 1/2 cups all-purpose unbleached, divided

1/4 cup butter, softened

1/2 cup granulated sugar

2 tsp baking powder

2 tsp salt

2 tbs butter

1/2 cup granulated sugar

2 tbs ground cinnamon

BROWN SUGAR GLAZE DIVIDED

1 cup butter, melted

1 cup packed dark brown sugar

2 tsp ground cinnamon

VANILLA GLAZE CREAM

1 cup powdered sugar

1 1/2 teaspoons vanilla extract

1/4 cup heavy cream

2 1/2 tablespoons milk
Directions:
In a large bowl, dissolve yeast in warm water. Let stand until creamy, about 10 minutes. Preheat oven to 375 degrees F

Combine the yeast mixture with the buttermilk, eggs, 2 1/2 cups unbleached flour, 1/4 cup softened butter, 1/4 cup sugar, baking powder and salt; stir well to combine. Stir in the remaining flour, 1/2 cup at a time, beating well after each addition. Dough should remain soft and slightly sticky. When the dough has pulled together, turn it out onto a lightly floured surface and knead until smooth and elastic, about 6 minutes.

Divide dough in half and roll each half into a 18×7 inch rectangle.(I thought that it looked too long/thin but it was perfect for the size rolls I wanted)  Spread each half with 1 tablespoon softened butter and sprinkle with 1/4 cup sugar and 1 tbs cinnamon.(if you like cinnamon like me, use 1 1/2) Roll up halves, beginning at wide side. Seal well by pinching the seams. Dust the outside of the rolls with the remaining sugar mixture.

Cut each roll into 1 inch slices.

Melt 1/2 cup of butter. Mix in the 1/2 cup of dark brown sugar and 2 tsp of cinnamon. Brush the mixture on the bottom of 2 round 9 inch cake pans. Less than half of the mixture will be used.

Place dough slices in each pan, lightly touching. The amount that will fit in your pan depends on the size of your cinnamon rolls. I fit about 30 in each pan. Cover and let rise until doubled.

Bake in a preheated oven for about 13-16 minutes (the larger the buns the more time will need to be added.) When there are only 5 minutes left, open the oven, pull the rack out, and glaze the top of the cinnamon rolls. Close the oven and let the rolls bake for the remaining 5 minutes.

Add sugar to bowl and stir in heavy cream and vanilla until mixture resembles a thick batter. Add milk one tablespoon at a time, stirring until smooth – about 3-5 full minutes. Mixture may look lumpy at first but just Published on by Lauren
Tagged: breakfast, vanilla glaze