I decided to try a double chocolate cookie recipe from Great Cookies: Secrets to Sensational Sweets
Back around the holidays I made a batch of "Double Chocolate Chip Cookies" that I found in the Baking with the Cake Boss: 100 of Buddy's Best Recipes and Decorating Secrets. In comparison, I think the Cake Boss Cookies were thicker and more brownie like; where as the cookies from The Great Cookie recipe are thinner and chewier. I recommend both recipes, it just depends on your preference. Enjoy!
Chocolate Chocolate Chip Cookies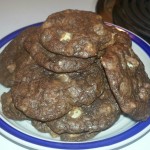 Prep time:
Cook time:
Total time:
Yield:

about 4 dozen

Difficulty:

easy

Recipe type:

Dessert
Ingredients:
8 ounces fine-quality semi-sweet chocolate chips

1 cup all-purpose flour, spooned in and leveled

2 Tbs strained Dutch- processed cocoa powder

1/4 Tsp salt

1/2 cup (1 stick) unsalted butter, slightly firm

3/4 cup granulated sugar

1/2 cup dark brown sugar

2 large eggs

2 Tbs hot water

1 1/2 Tsp vanilla extract

3 ounces semisweet chocolate chips

3 ounces milk chocolate chips

3 ounceswhite chocolate chips

3 ounces peanut butter chips

You can alter how much you want of each kind of chip. In the end it needs to add up to 12 ounces in total.
Directions:
Making the dough

In a medium bowl set over a pot of simmering water on low heat, slowly melt the 8 ounces of bittersweet chocolate. Keep warm.

Strain together the flour, cocoa, baking powder, and salt. Set aside.

With an electric mixer fitted with the paddle attachment, mix the butter on medium-low speed until smooth and creamy, about 1 minute. Add the granulated sugar, the brown sugar and mix until well blended and lightened in color, 2 to 3 minutes. Add the eggs, mixing until well combined, scraping the bowl as needed. Blend in the warm melted chocolate, then the hot water and vanilla extract.

Reduce the mixer speed to low and blend in the dry ingredients in two additions, mixing until just combined. Using a large rubber spatula, fold in the chocolate chips. Chill the dough for 1 hour.

Bake the cookies

Position the shelves in the upper and lower thirds of the oven., Heat the oven to 350 degrees. Line cookie sheet with parchment paper.

Drop 1 1/2 inch mounds of dough from the tip of a tablespoon onto cookie sheets, placing them about 3 inches apart (the cookies will spread during baking). Scrape down the side of the bowl occasionally to ensure even distribution of chocolate chips. Bake for 10-11 minutes. The cookies will look underdone, but will firm up as they cool. Remove from oven and let stand for 1 to 2 minutes, then loosen with a thin metal spatula. When firm enough to handle, transfer to cooling racks.

– Store in an airtight container, layered between strips of wax paper, for up to 5 days. These cookies may be frozen.

 
Published on by Lauren
Tagged: chocolate, dessert, double chocolate, white chocolate