I am writing this a little (okay a lot ) late, but I invested too much time in the season to forget about the finale. After a very short (and probably only) season; it is Sarah, Gregg, Khristianne, and Diane who were in the final four competing for a 2013 Ford Hybrid and $100,000.The show began with the final four competing in a team challenge where each cook had one hour to prepare three  different spoons each with a different tapas  (small Spanish savory dishes, typically served with drinks at a bar) The cooks are given three special ingredients, and they have to use all three. Guest judge Jose Andres will be judging, and the contestant who prepares his least favorite set of spoons will be eliminated.
The contestants have one hour to work with their mentors in creating three perfect tapas. Gregg tells the camera that it feels like he is competing with Ludo because of all of the help Ludo was giving Sarah. However, he stays confident as he tells us that he has experience working in a Spanish restaurant. Khristianne tells the camera how she has driven to Las Vegas just to eat at Jose Andres restaurant "e" about twenty times. Khristianne also tells us " I don't want Greg to win, I don't think he deserves it." (Khristianne, you aren't the only one who feels that way!)
Khristianne's spoon's were the first to be tasted by Jose, he gives two out of three of her spoons very high compliments. Diane wasn't as fortunate when it came to tasting her spoons. Jose felt that the tomato kept from being able to taste the other ingredients; and Bourdain fears that his suggestions are going to be what sends Diane home. Gregg's spoon was the 3rd and Jose felt that the proportions were bad, however, he did say that his prawn was a 10 and he couldn't do it better himself! Ludo than whispers "Gregg's going to win". (Funny how 10 minutes prior he said Gregg's spoon lacked taste). Last but not least were Sarah's spoons. Jose said that it was enjoyable but that it lacked acidity and that the date was too big which overpowered the other flavors. After hearing Jose's comments I was certain that it was going to be either Diane or Sarah going home. All four contestants stood looking like deer in headlights as Jose's hand went from plate to plate. Much to everyone's surprise it was Gregg who was eliminated. When leaving the stage Gregg shook each mentors and Jose's hand but didn't look a single one in the eye. As he was exiting he told the cameras "I would rather lose doing it all by myself, than to have won having my hand held." Hmmm, we know who that was directed to.
The three remaining cooks were given two hours and the help from Jose Andres to prepare three different but complimentary dishes for the judges to blind taste. Back stage the judges are talking and Bourdain states, "it's not three chances to impress the judges; but rather three chances not to screw up." As Jose is working with the three women, he compliments each cook. He tells the camera he is impressed with Sarah but he isn't sure if she is calm because she is in control or if it is because she is lost. When Jose makes his way over to Diane and when he sees what she is preparing, he asks her if she thinks she will be able to fit all of the flavors onto one spoon. She replies "I can and I will because I am that good!"
After the two hours were up the judges tried all three of the cook's spoons. Even though it is a blind taste, Duane and I feel that the over the past few weeks the judges have learned each cook's style of cooking. (Do you think Sarah would make baby octopus?) The judges didn't have anything really negative to say about any of the spoons, and each cook had one spoon that the judges felt was flawless.
When it was all said and done Sarah was in third place, Diane in second, and Khristianne is "The Taste" champion. Personally, I wanted to see Sarah win, she's a home cook! However, if it was going to be a professional, I am glad it was Khristianne. Now that the season is over, and I don't think we will see a season 2; I am ready for a new food show. Any ideas?
The Taste: Season Finale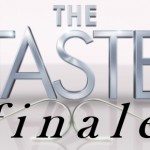 Prep time:
Cook time:
Total time:
Difficulty:

easy
Directions:
Published on by MuffinsandMeat
Tagged: ABC The Taste, Reality tv