We were walking through the grocery store trying to figure out what to make for dinner one night when I  remembered my mom's stuffed peppers. We had thought about making them before but never got around to asking for the recipe. I called her from the grocery store to get the list of ingredients and directions. I had to ask her numerous times "is that all?"  I really didn't believe that something so delicious would be so simple to make (once you try it, you will know what I am talking about!). This was a favorite growing up, and I am so glad my mom shared her recipe with us. We will be using it a lot in the future!
*We like to serve this over "Better Than Mom's Mashed Potatoes"
Stuffed Peppers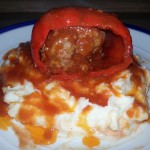 Prep time:
Cook time:
Total time:
Yield:

5

Difficulty:

easy
Ingredients:
FOR THE MEATBALLS:

1 1/4 lbs ground beef (anywhere from 1 lb to 1 1/4 lbs depending on pepper size)

1 1/2 cups Italian bread crumbs

1 tsp black pepper

1 tsp garlic powder

2 large eggs

5 bell peppers (your choice on color, we used 2 green, 1 yellow, 1 orange, and 1 red)

FOR THE SAUCE:

2 10.75 oz cans of tomato puree (we used HUNTS)

2 cans of water (refill 10.75 oz cans)

2 1/2 tsp olive oil

pinch of sugar

pinch of kosher salt

1 tsp garlic powder

1/2 tsp black pepper

few shakes red flaked pepper (optional)
Directions:
In a bowl, add ground beef, 2 eggs, 1/2 cups of bread crumbs, 1 tsp garlic powder, 1 tsp black pepper, and a shake of red pepper flakes (optional).

Make round balls not too compact. Have the meatball big enough to fit inside the pepper easily. Stuff the peppers. Set aside.

Preparing the sauce

In a large pot, pour in 2 cans of tomato puree. Fill those 2 cans with water and add to the pot. Add 2 1/2 tsp of olive oil. Stir well.

Add a pinch of sugar and a pinch of salt. Add 1 tsp garlic powder and a 1/2 tsp black pepper. Shake in red pepper flakes to your liking (optional). Stir well.

Add stuffed peppers. Coat the peppers with the sauce.

Bring the sauce to a boil, cover, reduce heat and simmer for 1 hour to 1 hour 15 minutes. Stirring occasionally.

Once finished let cool, remove, and serve with Better Than Mom's Mashed Potatoes.
Published on by Lauren
Tagged: dinner, mashed potatoes, meatballs