A few weeks ago I made an amazing 5 layer OREO cheesecake and I have been trying to hold off on making another one for as long as possible. It is just not a good idea for me to keep cheesecake in the house 24/7. I will eat it all. So this week I checked out Southern Living: Best Loved Cookies: 50 Melt in Your Mouth Southern Morsels looking for a regular cookie recipe. Then I got to page 83 and saw a recipe for Chocolate Chip Cheesecake Bars. I told myself that this is a recipe for cheesecake bars, NOT cheesecake and with this rationalization I went ahead and baked the bars. Good choice.
The recipe calls for light brown sugar, which is a delicate flavor compared to the intense molasses flavor that the dark brown sugar gives. I really like cookies that use dark brown sugar so for this recipe I did a 1/4 light brown sugar and a 1/4 dark brown sugar (recipe calls for 1/2 cup). Next time I make these I am probably going to use mostly dark brown sugar. This recipe also says to microwave the chocolate, I recommend using the double boiler method. Another thing I tried differently, was the chocolate on top, instead of piping it through the bag, I glazed it over the top. I'm not sure which way I will do it next time, but there definitely will be a next time!
Chocolate Chip Cheesecake Bars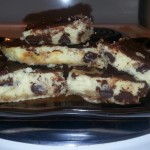 Prep time:
Cook time:
Total time:
Yield:

12

Difficulty:

easy
Ingredients:
1 cup all-purpose flour

1/2 cup firmly packed light brown sugar

1/4 cup butter softened

3 (8oz) packages cream cheese, softened

3/4 cup granulated sugar

3 large eggs

1/3 cup sour cream

1/2 tsp vanilla extract

1 (12 oz) package semisweet chocolate mini morsels (divided)
Directions:
Beat first 3 ingredients at medium-low speed with an electric mixer until combined. Increase speed to medium, and beat until well blended and crumbly. Pat mixture into a lightly greased 13 x 9 inch pan.

Bake at 350 degrees for 13-15 min or until lightly browned.

Beat cream cheese at medium speed with electric mixer until creamy. Gradually add granulated sugar, beating until well blended. Add eggs, 1 at a time, beating at low speed just until blended after each addition. Add sour cream, vanilla, and 1 cup chocolate morsels, beating just until blended. Pour over baked crust.

Bake at 350 degrees for 25 minutes or until set. Cool in pan on a wire rack.

Microwave remaining chocolate morsels in a 2 cup glass measuring cup on High for 1 minute. Stirring after 30 seconds.* Stir until smooth. Transfer to a 1qt zip top freezer bag; cut a tiny hole in 1 corner of bag. Pipe melted chocolate over cheesecake by gently squeezing bag. Cover and chill at least 4 hours; cut into bars.

* I do not like to microwave anything, I use the double boiler method for melting chocolate.
Published on by Lauren
Tagged: Cheesecake, chocolate, Cream Cheese, decadent, dessert