Duane and I have known each other since high school, but after graduation I attended SUNY Purchase in New York, and unfortunately we lost touch. In 2011 (11 years later) thanks to social media, we reunited and now happily married. Fate!
After moving down south, I started working for the public library; and was recently promoted to Youth Services Librarian. Along with the new title, I have to work toward (and earn) my Master's degree.When Duane and I aren't working (or studying) we love cooking, baking, and eating.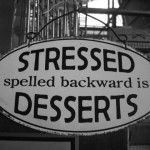 Growing up I was a picky eater, but living in New York with so many food options my palate evolved. Which is good because Duane is an adventurous eater and I have enjoyed trying new things.
There are so many benefits to cooking and eating at home. Here on MuffinsandMeat we want to show you that cooking at home is not only healthier, cleaner (Kitchen Nightmares!), and sometimes cheaper; but it is also FUN! Food is a lot of fun, but the absolute best part about cooking at home (and blogging about it after) is that it is something Duane and I get to do together. Nothing beats that!
On MuffinsandMeat.com you will find recipes ranging from breakfast to dessert, from sweet to spicy, and from quick and easy to long and tedious. We have more than recipes on our site; you can find Food TV recaps, restaurant reviews, food challenges and adventures, and a great food humor page.
We've made all of the recipes on MuffinsandMeat, and they have been tasted by many.
*Some of our recipes are spicy, but you can alter the level to your liking!
We publish often and love feedback on recipes you have tried!
Have a recipe you want to share? Send us an email with the recipe and picture and we will post it on our site!