It is the library's Comic Con this weekend, and instead of doing deep-fried OREO's http://www.muffinsandmeat.com/2015/06/11/deep-fried-oreos-3/ we are making homemade Kettle Corn, little smokies (last year we did pizza, but it was expensive), and 'low fat' chocolate mousse cake. We are hoping for a nice turnout but in our area it is always hard to tell… plus it is festival season. One of my assistants took charge (she knows more about comic cons than me) and created cool crafts and games. Duane and I supplied the food.
*update, Comic Con went well, had a good crowd and everyone loved our food!!
We found this recipe on Pinterest, which led to ModernMrsDarcy.com
*This recipe makes about 16 cups, if you are not serving
a large group; I suggest halving the recipe.
Kettle Corn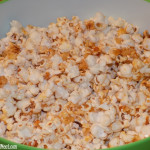 Prep time:
Cook time:
Total time:
Yield:

16

Difficulty:

easy

Recipe type:

Dessert
Ingredients:
1/2 cup popcorn kernels

1/2 cup sugar

3 tbs coconut oil (regular oil works too)

1 tsp kosher salt (regular salt will work too)
Directions:
In a large stock pot (at LEAST a 6 qt, if you only have access to a smaller pot reduce the qty of ingredients) add oil. Turn heat to medium, keep another large bowl close by.
Use three kernels as 'testers', place in oil and when they begin to pop, the oil is hot enough, add the half cup of popcorn kernels.
Place the lid on the pot and shake periodically while it is popping.
When popping slows, add sugar and salt into pot. Wait a few seconds, and then turn burner to low.
Using a wooden spoon that has a flat bottom, stir popcorn and salt/sugar mixture, scrapping the bottom while stirring.
You will see the sugar begin to melt, and caramelize the popcorn.
When popcorn is coated (amber in color or to your liking) transfer into another bowl and allow kettle corn to cool before serving.
Enjoy!
*If making multiple batches, make sure to clean the pot out after each use.
Published on by MuffinsandMeat
Tagged: dessert, easy, party food, popcorn, savory, Side, simple, sugar, Sweet