It has been quite awhile since our last post, but we have a list of drafts that we will hopefully have posted soon. I found this Grilled Chimichurri Chicken photo on Pinterest and it linked me to sugardishme.com. In her recipe she used drumsticks and I chose to use chicken breasts. Also, because I wanted to have enough sauce to marinade and have some extra for the finished chicken I doubled the recipe below. This is a delicious dish that has a fresh flavor and is great for when you want something a little lighter.
Grilled Chimichurri Chicken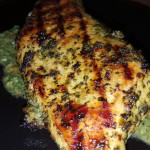 Prep time:
Cook time:
Total time:
Yield:

4

Difficulty:

easy

Recipe type:

dinner
Ingredients:
½ cup fresh parsley, finely minced

¼ cup fresh cilantro, finely minced

2 tablespoons fresh oregano, finely minced

1 medium jalapeno pepper, finely minced

2-3 tablespoons red onion

3 cloves garlic, finely minced

½ cup red wine vinegar

½ cup olive oil

4 chicken breast

kosher salt to taste.
Directions:
Combine the parsley, cilantro, oregano, jalapeno pepper, red onion, garlic, oil, and vinegar in a small container (I added all sauce ingredients to a food processor and blended them together). I recommend allowing the marinade to sit for awhile.
Pour the marinade over the chicken and let it sit for at least 30- 45 minutes.
Set the grill to medium high heat.
Sprinkle the marinated chicken pieces with kosher salt to taste.
Place the chicken breasts over direct heat and close the lid. Cook for about 4-5 minutes directly over coals flip and cook for 4-5 more minutes on the other side.
Move chicken to the side over indirect heat and continue cooking until the instant read thermometer reaches 165°F or if you do not have an thermometer, the juices at the thickest piece should run clear when you cut into it.
Published on by Duane
Tagged: BBQ, chicken, chimichurri, cilantro, grilled, Spanish