Wow, it feels like forever since we posted a recipe, but I finished my homework a few hours earlier so I decided to cook dinner, write a post, and hopefully publish before bed (hopefully).
I usually do not get home from work until after six and I usually have homework too. Since there are only so many hours in a day, Duane usually makes dinner. Since I had the few extra hours handy, I told him to let me make dinner tonight and I chose Baked Firecracker Chicken, a recipe Duane found on Pinterest from the site http://lecremedelacrumb.com. The recipe is fast and delicious, and it doesn't call for that many ingredients. This recipe is a definite win.
This is a vinegar based hot sauce, you can alter the amount of vinegar.
Baked Hot and Spicy Chicken Strips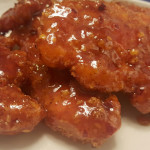 Prep time:
Cook time:
Total time:
Yield:

3

Difficulty:

easy

Recipe type:

Dinner
Ingredients:
1.5 lb boneless skinless chicken breasts, pounded to ½ inch thickness and cut into strips.

1½ cups panko breadcrumbs

1 egg + 1 tablespoon water

⅓ cup flour

SAUCE:

⅓ cup Frank's hot sauce (this brand really makes the sauce!)

⅔ cup dark brown sugar

½ cup sugar

3 tablespoons ketchup

2 tablespoons apple cider vinegar

2 teaspoons garlic powder

1/2 tablespoon crushed red pepper flakes (optional)

1 teaspoon Kosher salt

1 tablespoon water
Directions:
Preheat oven 425 degrees. Line baking tray with aluminum foil. If you have a cooling rack, spray with cooking spray and place on top of the lined baking tray.
Add flour and strips to a large zip lock bag, seal tightly. Shake until chicken is coated.
Whisk together 1 egg and 1 tablespoon of water in a bowl. Put breadcrumbs in a separate bowl. Coat the chicken strips one at a time with egg and then in breadcrumbs and place on the sprayed rack or baking tray.
When all of the strips are coated bake for 15-20 minutes, chicken will be a golden brown.
While the chicken is cooking, prepare the sauce.
Mix together all of the soft ingredients in a medium sauce pan, and bring to a simmer. Lower the heat, and continue to let simmer, stirring often, until the sauce is thick.
Remove from heat and coat chicken tenders.
Published on by Duane
Tagged: Baked, chicken strips, dinner, frank's red hot, quick, simple, spicy