It's winter, and the chilly weather had me thinking, I haven't eaten chili in a long time. I went online and found a recipe for Spicy Chili on www.food.com. This recipe makes enough to fill a 7 qt slow cooker. Lauren doesn't like chili, so I made this to bring to share with my coworkers (great reviews). If you are feeding a small group, cut the ingredients in half. When Lauren asked what the recipe's serving size was, all I could say was a lot.
This is a great time of year for a hot and spicy chili, and I highly recommend trying this Spicy Chili Chili Bang Bang. Everyone that has tried it, loves it.
You can make this a little healthier by using ground chicken or turkey and/or omitting the bacon.
What is your favorite food to make cook in the winter?
Spicy Chili Chili Bang Bang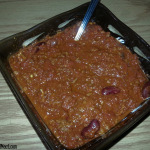 Prep time:
Cook time:
Total time:
Difficulty:

easy

Recipe type:

side
Ingredients:
1 lb bacon, cut up in small chunks

4 lbs ground beef

4 (1 lb) cans kidney beans (I used to cans of light and 2 cans of dark kidney beans)

1 (28 ounce) can crushed tomatoes

12 ounces tomato paste

2 onions, finely chopped

2 ounces chili powder

2 ounces cayenne pepper (dry powder)

2 (15 ounce) cans beef broth

2 fresh tomatoes

5 fresh habaneros, seeded and chopped

3 garlic cloves

1 tablespoon ground cumin

1 tablespoon oregano

1 1/2 tablespoons paprika
Directions:
Brown bacon (I cook mine in the oven: lay out baking trays lined with parchment paper, lay bacon out and stick trays in cold oven. Turn oven on 400 degrees; cook bacon for about twenty minutes (or longer depending on how you like your bacon). Half way through the twenty minutes, flip. Add to slow cooker.
Brown ground beef in bacon drippings.
Rinse beans in colander.
Add beef, beans, crushed tomatoes, tomato paste, onions, chili powder, cayenne pepper, and beef broth in the slow cooker.
Puree habaneros, garlic and tomatoes in food processor, then add to slow cooker.
Stir all ingredients, then cook 10-12 hrs on low, or 5-6 hrs on high. Every few hours give the chili a stir.
Remove and enjoy!
Published on by Duane
Tagged: Bacon, beef, chili, dinner, Hot Peppers, Side, slow cooker, spicy