Instead of making a spicy Chinese chicken (http://www.muffinsandmeat.com/2013/09/11/hot-as-hell-chinese-chicken/) the other night, I tried a take on a bourbon chicken recipe I found on a Pinterest. The recipe does not contain bourbon; according to the story, the Chinese chef who created this dish worked on Bourbon Street. Whatever the origin is, it is delicious. I wanted to come up with a dish that would appeal to the people who do not eat spicy foods. I realized last week at the holiday party that I have a MUCH higher tolerance for spicy food (which is awesome). The chicken is so flavorful and very tender; I definitely made a winner! A MUST TRY!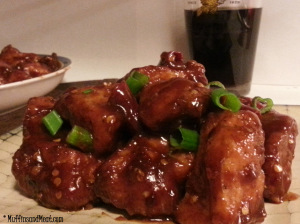 Bourbon Chicken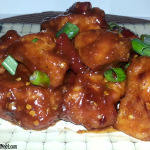 Prep time:
Cook time:
Total time:
Yield:

4

Difficulty:

easy

Recipe type:

Dinner
Ingredients:
2 lbs boneless/skinless chicken breasts, cut into bite-size pieces

1 1/2 cups cornstarch

1 tsp black pepper

1 tsp salt

1 tsp garlic powder

oil for deep fryer (or for pan frying)

SAUCE

3-4 garlic clove, minced

1 teaspoon freshly grated ginger

3/4 teaspoon crushed red pepper flakes

1/4 cup apple juice

1/3 cup light brown sugar

2 tablespoons ketchup

1 tablespoon balsamic vinegar

1/2 cup chicken broth

1/3 cup low sodium soy sauce

1 tbs cornstarch

dried chili de arbols (you can put as many or as few as you want. We used about 15-20)

green onions chopped (we used about 2 stalks)

toasted sesame seeds (optional)
Directions:
Cut chicken into bite-size pieces.
Mix together cornstarch, black pepper, salt, and garlic powder.
Coat chicken with cornstarch mixture.
Heat oil in a large skillet or deep fryer. Cook chicken until done. In a deep fryer it is about 3-4 minutes; working in batches.
Boil a pot of water, then turn off burner, leaving the pot on the hot burner. Submerge the chili de arbols in the boiling water for about 25 minutes. When done, chop in 1/2 inch pieces.
Add remaining ingredients for sauce in a bowl. stir until all ingredients are well combined.
Pour the sauce mixture into wok and heat briefly to thicken.
Once thickened return the chicken and the chili de arbols pieces to the wok and stir well, coating chicken thoroughly with sauce.
Transfer the chicken to a serving dish and garnish with green onions and sesame seeds if desired.
Published on by Duane
Tagged: bourbon chicken, chicken, zesty