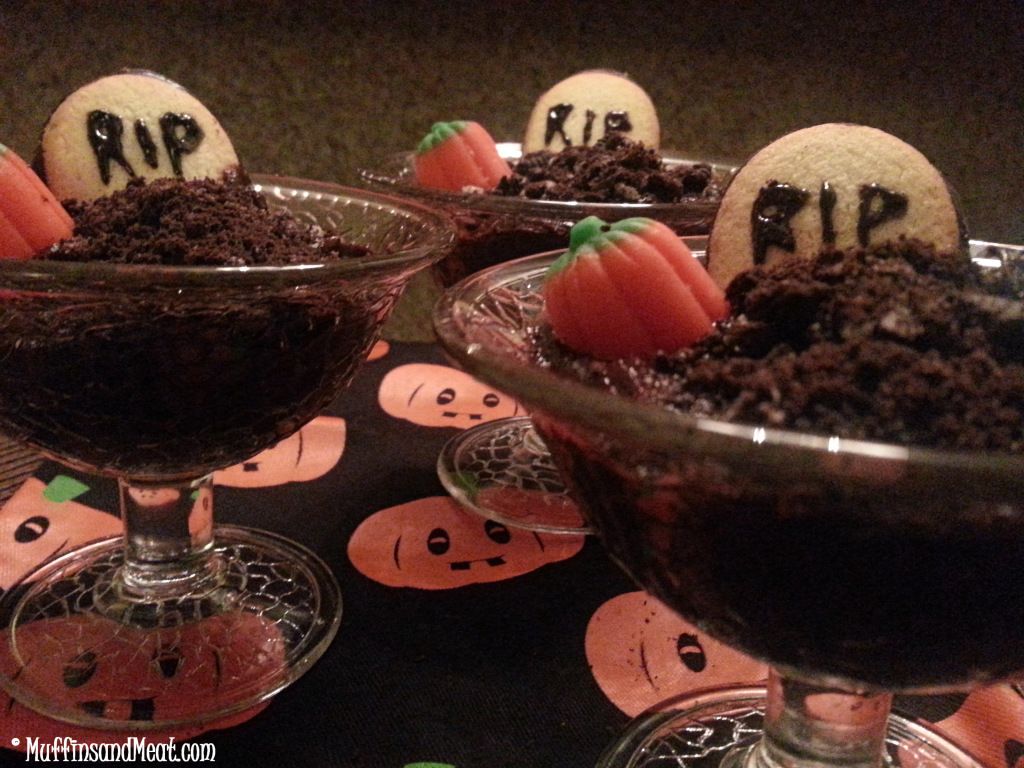 Another Kids in the Kitchen coming up and because Halloween is my favorite holiday the theme is named appropriately, Graveyard Pudding Cups. The kids will pour, measure, and mix ingredients while also learning cooperation and kitchen skills. This is my favorite program I coordinate at the library, not just because it involves food but because cooking with children is important in their development. I like being able to teach the children and parents all the benefits of bringing little ones into the kitchen. Some (not all) of the skills children learn from cooking are:
Cooking teaches literacy, match, and chemistry skills.
Cooking different foods teaches children about different cultures and introduces them to foods they would normally not try.
Cooking together is a great time to bond with your children,
and it also teaches life skills.
This recipe makes anywhere between 12-15 graveyard cups depending on how much you pour into each cup. The recipe is also fit to match my set up. I usually have anywhere from 12-20 children attending the program and split the children into either three or four groups; a group at each table..
In addition to making graveyard pudding cups, while the pudding is chilling we will continue with the Halloween festivities. The children will play doughnuts on a string; each child will have a designated doughnut that is hanging on a string. The object of the game is to eat your doughnut off the string BUT your hands are behind your back. There are no winners or losers (I don't want children choking). I also have a Halloween BINGO with prizes, estimation games, and a pipe cleaner spider with web craft.
For the younger children I have a special Halloween story time at the end of the month with games, crafts, and trick or treating around the library.
Yes, I love this holiday!
Check out one of the previous Kids in the Kitchen programs:
http://www.muffinsandmeat.com/2013/11/16/easiest-pumpkin-cookies/
Spider pipe cleaner craft instructions: Take 4 pipe cleaners twist in middle to form body. Put pony beads on and then bend the leg, add another pony bead and bend again. Put as many beads on as you would like. Glue on googly eyes when finished.
Want more children's craft ideas? Check out my Pinterest page:
http://www.pinterest.com/LHarper727/story-time-crafts/
Graveyard Pudding Cups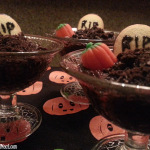 Prep time:
Cook time:
Total time:
Yield:

4

Difficulty:

easy

Recipe type:

Dessert
Ingredients:
3 boxes of 3.5 oz box of chocolate pudding + ingredients to make pudding

1 bag Chocolate Milano cookies (cut in half or whole)

1 bag of OREO's

Pumpkin shaped candy corn

black writing gel

You can add more; green gel for grass, marshmallows for ghosts, candy eyeballs, gummy worms, go nuts.
Directions:
Make pudding according to box.
Allow the pudding the chill. Since I had a time constraint with the length of the program, I split the time. A little more than half in the freezer the rest of the time in the refrigerator. Check the box of pudding to see chill time (I've found contradicting brands). While in the freezer I check often. For every program I have had where we have to chill pudding, doing it this way does work.
Either by food processor or have the children smash (I let the kids smash) the OREO's.
Once pudding has chilled, pour into 4-6oz clear plastic cups 3/4 of the way full.
Top the pudding with OREO's.
On a Milano cookie (or a half of cookie) write RIP (or whatever you would like)
Place a candy corn pumpkin (or other creepy crawlers) beside the Milano tombstone.
Happy Hauntings!
Published on by Lauren
Tagged: children's program, chocolate, Kids in the Kitchen, oreo, simple