It is Labor Day weekend, and I never got the beach body that I was hoping for this year, but I (we) vow to do better and be ready come next May. Here is the first step, Skinny Chocolate Muffins (decadent enough to eat for dessert). When I was thinking about what I wanted to bring over to our friends for their holiday cookout, I thought cupcakes. Then I thought about the ingredients that are in a regular batch of cupcakes, and some recipes can use anywhere up to 6 sticks of butter (or more including frosting) and 2 eggs. Then that diet and workout plan that "started" when we returned from New York last week crept into my mind. I decided to Google how to make a healthier cupcake and I found a lot of sites that gave great ingredient substitution ideas. I decided to give it a shot and these delicious muffins (cupcakes if it is dessert time) are absolutely the best thing ever!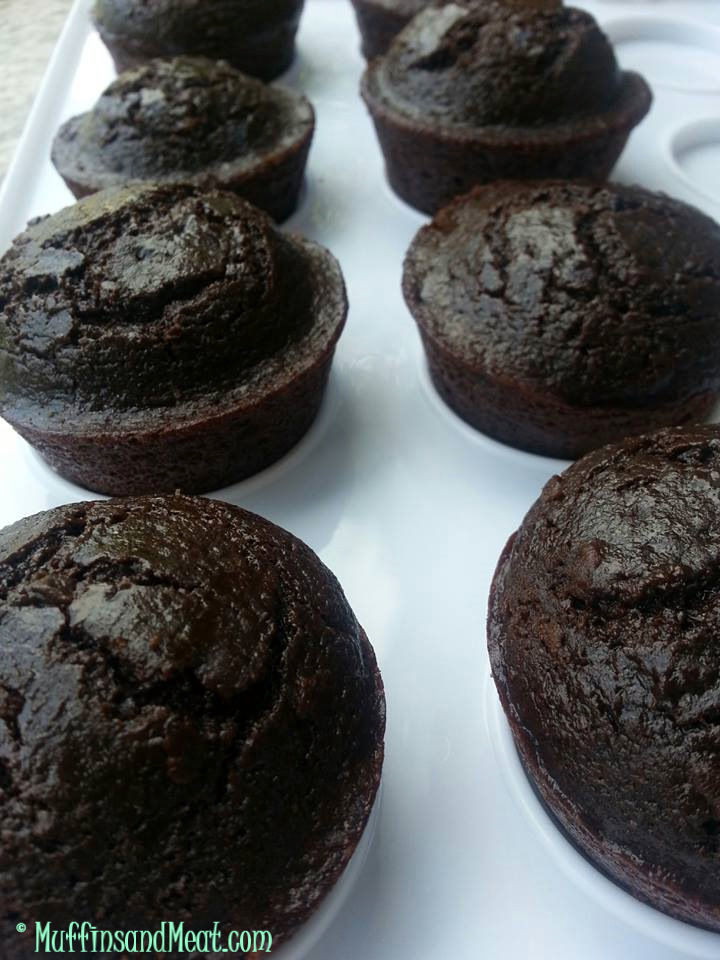 Here are some of the great ways to lighten up your muffin or cupcake recipes without taking away any delicious flavor:
Get rid of the butter and/or oil.
Substitute applesauce in place of the butter. Have you ever looked at the nutrition label for butter? I didn't really think that much about it in the past, but now that I am really trying to eat better I decided to REALLY look at it. 1 tbs has about 11 g fat and 100 calories. Cupcakes have anywhere between 1 and 4 sticks of butter plus frosting. That is a lot, especially when I consume more than one cupcake. 86'ing butter is a huge help in making cupcakes a little healthier. The ratio for butter to applesauce is 1 to 1.
Take away the egg yolks.
Use yogurt (Greek or regular) in place of eggs. In this recipe I still used egg whites for leavening and the yogurt replaces the yolks role in cupcake recipes. An egg yolk has 5 grams of fat, egg whites have none.
Omit frosting, technically making the cupcake a muffin; or change the type of frosting.
Top with frozen yogurt or whip cream to make this muffin more of a dessert. This recipe uses maple syrup which gave the muffin a glaze and I topped with slow churned ice cream. If you want to have a frosting make a dream frosting or a frosting using yogurt instead of heavy cream and butter.
I was skeptical at first (so were the people who tried them), I did not think that a cupcake or muffin made from whole wheat flour, yogurt, and applesauce would taste as good as it did. I could not stop talking about how much I loved these skinny chocolate muffins. Everyone at the cookout loved them too! After seeing how delicious lighter muffins are, I am so happy I tried this recipe, there is no reason to use butter in cakes or muffins again.
I liked these so much I made them twice this holiday weekend.
Skinny Chocolate Muffins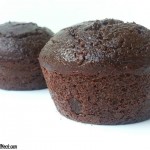 Prep time:
Cook time:
Total time:
Yield:

12

Difficulty:

easy

Recipe type:

Dessert, Breakfast
Ingredients:
3/4 cup unsweetened applesauce

1/2 cup + 1 tbs granulated sugar

1/4 cup pure maple syrup

2 large egg whites

3/4 cup low fat vanilla yogurt

2 tsp vanilla extract

1/2 cup cake flour

1/2 cup whole wheat flour

1/2 cup unsweetened cocoa powder

1/2 tsp salt

1 tsp baking soda

1 tsp baking powder

1/2 cup mini chocolate chips
Directions:
Preheat oven to 425 degrees. Spray 12 count muffin pan with non stick spray. Do not use liners!
In a large bowl, combine applesauce, sugar, maple syrup, egg whites, yogurt, and vanilla extract. Whisk them all together until smooth.
Whisk together the flours, cocoa powder, salt, baking soda, and baking powder together. Slowly stir in the wet ingredients, being careful not to over mix. Remove any air pockets that may form. Using a rubber spatula, fold in mini chocolate chips. The batter will be chunky, this is okay.
Divide the batter evenly among the muffin cups. Fill them all the way to the top if you can. Bake for 5 minutes at 425 degrees; lower the temperature to 375 degrees and continue to bake for another 13 minutes. Insert a toothpick into the center of one muffin, if it comes out clean they are done. If not bake for another minute.
Published on by Lauren
Tagged: breakfast, chocolate, Chocolate Chip, cupcakes, dessert, diet, double chocolate, healthier cupcake, healthier muffin, healthy, light, skinny