The Summer Reading Program is in full effect and this week we had our first Kids in the Kitchen program. With this year's theme being "Paws to Read" it only seemed fit to make a Bears at the Beach cooking program. This is a simple recipe that was a huge hit with the children. 5 hours before the program began, I made the jello and poured the mixture in to each individual cup. I originally wanted the children to of be able to make the jello themselves. To see if this was possible to do in the time I had allocated, at home I tried the freezer method (I mean it worked when making adult jello treats in a short time) but it still took too long. The jello took about 4.5 hours to set. The children made pudding, learned a few kitchen facts, safety tips, made a cool craft to bring home (pictured above), and of course set up their beach! Like I always say, this is one of my favorite programs at the library! BTW, this is great to do when entertaining children especially birthday parties.
Check out one of my other Kids in the Kitchen programs:
http://www.muffinsandmeat.com/2013/07/10/oreo-dirt-cups/
http://www.muffinsandmeat.com/2013/11/16/easiest-pumpkin-cookies/
Keep a look out for July's Kids in the Kitchen post. The kids will bake cat and dog treats to bring home. While their treats are baking, they will make a pet treat container to bring their goodies home in!
Bears at the Beach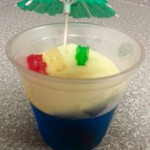 Prep time:
Cook time:
Total time:
Yield:

4

Difficulty:

easy

Recipe type:

dessert
Ingredients:
1 small box of vanilla pudding; prepared

1 box of blue jello (we used blue raspberry); prepared

Swedish fish

Gummy Bears

A drink umbrella
Directions:
Make the jell-o according to box. Pour the jello into individual clear cups, and refrigerate for 4 hours or until set. Drop a Swedish fish into the jello about an hour into the chilling process.
Make pudding according to box, cover, and place in the refrigerator for an hour or until set.
Once finished, use an ice cream scoop to pour the vanilla pudding, aka "sand" on to a portion of the jello, aka "ocean water"
Decorate your beach with gummy bears and drink umbrellas. (Don't those umbrellas remind you of Shirley Temples as a kid?)
ENJOY!!!!
Published on by Lauren
Tagged: Bears at the Beach, dessert, Kids in the Kitchen, library program, no-bake, Pudding, simple