I love topping a pulled pork sandwich with a nice helping of coleslaw. The other weekend I made a slow cooked pork shoulder (recipe pending) and this refreshing coleslaw. I am very pleased with the way this coleslaw turned out. It is very flavorful and easy to make, despite the long list of ingredients. Never let a long ingredient list deter you from any recipe; chances are it is well worth it!
Want to try a spicier coleslaw? Check out: http://www.muffinsandmeat.com/2013/02/17/spicy-honey-mustard-coleslaw/
Coleslaw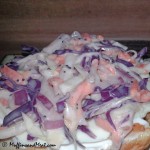 Prep time:
Cook time:
Total time:
Yield:

8

Difficulty:

easy

Recipe type:

side
Ingredients:
6 cups shaved green cabbage

2 cups shaved red cabbage

2-3 peeled and shredded carrot

1/3 cup red onion chopped fine

1 1/4 cup mayonnaise

4 Tablespoons cider vinegar

1 1/4 teaspoon celery salt

1/2 teaspoon white pepper

1/2 teaspoon powdered mustard

1 teaspoon poppy seeds

2 1/2 Tablespoons white sugar

1 1/2 Tablespoon extra virgin olive oil
Directions:
Shave cabbage by hand as thinly as possible. Add shredded carrot and chopped onion.
In a separate bowl, mix the remaining ingredients.
Add the mayonnaise mixture to the cabbage, carrots. and onions.
Let sit in the refrigerator for at least one hour to incorporate flavors; then mix again and serve.
Published on by Duane