The teens from the libraries TAB group (Teen Advisory Board) had another bake sale today. I ended up baking most of the treats but that is okay, I had fun doing it.
I made these Death By Chocolate Muffins since the bake sale started in the morning I figured something with out frosting is a must. I also made my favorite Give Me S'more Cookies (which have almost sold out… ) You can find the Give Me S'more Cookies on MuffinsandMeat too. http://www.muffinsandmeat.com/2013/12/31/give-me-smore-cookies-2/.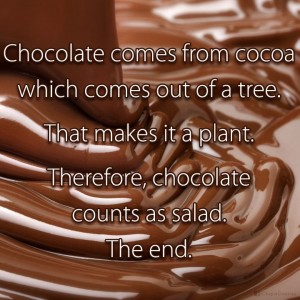 If you love chocolate you will love these Death By Chocolate Muffins…. and remember cocoa comes from a plant…there for it is healthy!
I altered the original recipe that can be found at cookingandbeer.com
ENJOY!
Death By Chocolate Muffins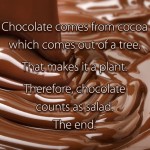 Prep time:
Cook time:
Total time:
Yield:

12

Difficulty:

easy

Recipe type:

Breakfast
Ingredients:
2 1/4 cups all-purpose flour

1/3 cup unsweetened cocoa powder

1 1/2 teaspoon baking powder

1/2 teaspoon baking soda

1/2 teaspoon fine sea salt

1/2 cup canola oil

1/2 cup buttermilk (room temperature) I used low fat

1/2 cup dark brown sugar

1/4 cup granulated sugar

2 large eggs, beaten (room temperature)

2 teaspoons vanilla extract

1/2 cup white chocolate chips

1/2 cup dark chocolate chips

1/4 cup semi sweet chocolate chips
Directions:
Preheat your oven to 400 degrees F line a muffin pan with cupcake/muffin liners; Set aside.
In a large bowl, whisk together the flour, cocoa powder, baking powder, baking soda, and salt until combined and no clumps remain.
In a separate medium bowl, whisk together the coconut oil, buttermilk, brown sugar and granulated sugar. Beat in the eggs, then the vanilla, and whisk until combined.
Pour the wet ingredients into the dry and fold the ingredients together with a large spoon until no dry ingredients remain. Do not over-mix.
Stir in all of the chips, evenly dispersing them among the batter.
Drop the batter into the prepared muffin tin, filling them 3/4 of the way up the molds.
Bake the muffins at 400 degrees F for 8 minutes and then decrease the temperature to 350 degrees F (or 365 degrees F if baking at high altitude) for 8-10 minutes or until a toothpick comes out clean.
Remove from oven and let cool for a couple of minutes in the pan, then transfer to a wire rack to cool the rest of the way.
The muffins are best served warm, but will keep in an airtight container for a week. Enjoy!
Published on by Lauren
Tagged: breakfast, chocolate, Chocolate Chip, double chocolate, white chocolate