Another great weekend comes to an end WAY too soon. Since moving back down here I do not have as many friends as I did up north, but over the weekend I met up with an old friend for coffee (I wish I ordered decaf), we had some good laughs and talked about everything and anything (I can't wait to do it again). What else that was great about this weekend is that I also clenched 1st place in my bracket; even with Florida's loss. I found an amazing gelato (that I just finished, smh), which then led me to wanting to buy an ice cream maker, and today since Duane and I wanted to try to get the most out of the day we woke up nice and early. If I'm up early…I'm making breakfast, and this morning I had the urge to make chocolate chip pancakes. These pancakes have a little cinnamon and vanilla in the batter which give the pancakes added flavor.
Since I was the only one eating the delicious breakfast treat, the measurements below only makes 3 pancakes; however it is very easy to double the amounts (maybe even easier) this is a very yummy recipe, but next time I make them I am putting less chocolate chips. I never thought I would ever say that, but the first pancake I made was nothing but chocolate. Normally that would be a good thing, but not for my pancakes. Next time I make a batch, I think I am going to add mixed berries. Overall, not just the fluffy chocolate chip pancakes, but all of the meals that Duane and I made today turned out amazing! We will post the delicious naan and chicken vindaloo that we made tonight within the next few days 🙂
Like these pancakes? Check out one of our other pancake recipes:
http://www.muffinsandmeat.com/2013/08/26/old-fashioned-pancakes/
Chocolate Chip Pancakes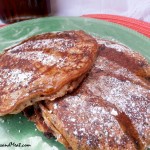 Prep time:
Cook time:
Total time:
Yield:

3

Difficulty:

easy

Recipe type:

Breakfast
Ingredients:
3/8 cup milk

1 tbs white wine vinegar

1/2 cup cake flour

1 tbs sugar

1/2 tsp baking powder

1/4 tsp baking soda

1/4 tsp salt

1 tbs butter

1 tsp vanilla

1/2 tsp cinnamon

chocolate chips, your preference in amount

powdered sugar (optional)

maple syrup (optional)
Directions:
In a small bowl, stir together milk and vinegar. Set aside and allow it to sit for five minutes. It will look curdled–that is normal.
Combine flour, sugar, cinnamon, baking powder, baking soda, and salt in a separate bowl. Set aside.
Place butter in a small bowl and melt in the microwave.Since the recipe calls for half an egg, in a separate bowl, whisk together and pour half of the egg to the butter. Whisk together until well-combined. Pour butter/egg mixture into milk/vinegar mixture and mix again.
Pour the wet ingredients into the dry ingredients all at once. Add vanilla and chocolate chips.
Gently stir only until all ingredients are uniformly moist. Don't over mix or the pancakes will be tough.
Heat a skillet over medium heat, spray with cooking spray, and drop 1/4 cup spoonfuls of batter onto skillet. Cook until bubbles form and pop, then flip and cook the other side.
Published on by Lauren
Tagged: "Tea"riffic Craft, breakfast, Chocolate Chip, Pancakes, simple