March Madness is in full effect and it has been an emotional roller coaster on our couch. Okay, I am exaggerating a bit, but when you are a sports fan and have a few brackets filled out; every game really is a nail biter. For all of those who have watched can attest, these games have been crazy! I am positive everyone I come in contact with is ready for the tournament to be over because it is ALL I can talk about. What does this have to do with our homemade lasagna? Not much except we have eaten it the past two Sunday's in a row while watching non stop basketball.
The ingredient list for this recipe looks a little intimidating; don't let the it scare you away from trying this recipe. It's worth it, trust me. When making this recipe, the spices used are to taste. If you aren't one for spicy food skip the habaneros or use a milder pepper.
This is by far the best lasagna we
have ever had. I used to say my grandma's was the best, but with the changes Duane and I made, it
brought her original recipe to a whole new level. Although I would will never tell her that, but it's true :).
One of ingredients listed is a block of mozzarella cheese or if you don't have a food processor you can use pre-shredded cheese. Until we bought our food processor I didn't realize there was such big a difference between the two. The block cheese feels lighter, melts better, and tastes less processed. If you do not own a food processor yet, I highly recommend one.
We decided that this is perfect dish to make on a Sunday, the leftovers last for a few days and it is definitely not a dinner (or breakfast and/or lunch) you can get tired of. I love this lasagna recipe!!!
Go Florida! (for my brackets sake)
If you are a fan of Italian food, check out our baked ziti recipe too! http://www.muffinsandmeat.com/2014/03/04/homemade-baked-ziti-sauce/
Homemade Lasagna Rolls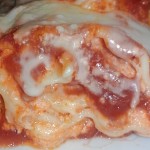 Prep time:
Cook time:
Total time:
Yield:

16

Difficulty:

medium

Recipe type:

Dinner
Ingredients:
1 box of lasagna noodles

SAUCE:

1 Tbs Olive Oil (for sauteing garlic and habaneros)

3 garlic cloves, minced

2 habaneros (optional)

3 cans of tomato puree (10.7 oz cans)

1 can 6oz tomato paste, you will use between 1/4-1/2 of it

1/2 cup of water (more or less depending on what your preference of consistency of sauce)

1 large bay leaf

pinch of kosher salt

pinch of sugar

1/2 tsp parsley

1/2 tsp Italian seasoning

1/4 tsp oregano

2 tsp ground red pepper

FILLING:

1 lb sweet Italian sausage (or hot sausage)

1/4 lb pepperoni; chopped

1 15 oz container ricotta cheese

1 block (16oz) mozzarella cheese; divided (you can use pre-shredded cheese)

1 egg beaten

1/4 cup Parmesan cheese
Directions:
Saute garlic and habaneros in olive oil until the garlic is a golden brown. (picture above)
Pour tomato puree and paste into a sauce pan. Slowly add water until sauce reaches desired consistency. You can always add more paste if it thins too much.
Add the sauteed garlic and habaneros, oil too. Add the remaining herbs and spices. You can alter the amount to taste. Bring sauce to a simmer, cover, and continue to let cook for AT LEAST 30 minutes.
While the sauce is simmering, begin cooking the sweet Italian sausage on medium to medium high. When the sausage is thoroughly cooked add about 1/2 cup of the sauce to the sausage; and to add more flavor to the remaining sauce add a little sausage to the sauce. At this time check the consistency of the sauce; if you prefer to have a thicker top layer sauce add more paste, if you prefer to have thin sauce add more water accordingly.
Cook noodles as directed on box.
As noodles are cooking mix together: the ricotta cheese, chopped pepperoni, cooked sausage, 1 1/2 cups of mozzarella cheese, and 1 beaten egg.
Once the noodles have cooked, lay the noodles flat. Spread each noodle with the cheese and sausage mixture. Once the noodles are coated with the mixture, begin to wrap. (Pictures above)
Spray a 9×13 pan (we use pyrex) with cooking spray then pour a thin layer of sauce on the bottom of the pan.
When all of the lasagna noodles have been rolled up place in the sauce coated pan and add the remaining sauce to the top of the rolls. Then sprinkle with a 1/4 cup of parmesan cheese and remaing mozzarella cheese until the lasagna rolls are completely covered. (picture above)
Cover the 9×13 pan with aluminum foil and bake at 350 for 35 minutes. After 35 minutes remove the foil and bake for another 10 minutes.
Remove from oven, let cool, serve, and ENJOY!
Published on by MuffinsandMeat
Tagged: Cheese, dinner, Hot Peppers, Italian, Pasta