Chips and salsa make a great snack, and I am guilty of buying jarred salsa from the store in the past. When I purchased my food processor the first thing I told myself I was going to make was a homemade spicy salsa. This is the 3rd time I've made this recipe and we think it is amazing. It uses so many fresh ingredients that it has a COMPLETELY different taste than any store-bought salsa. The two types of hot peppers add the perfect amount of heat. However, if you like your salsa mild, skip the habaneros and just use jalapenos.
The instructions say to let your salsa chill for at least an hour, I let mine sit overnight (not just because I forgot chips at the store) but it allows the flavors to blend. Plus, chilled salsa is better than luke-warm in my opinion.
After making homemade salsa I don't think I could bring myself to buy jarred again. This is a simple recipe that any salsa lover would…well, love.
Spicy Salsa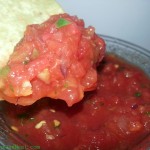 Prep time:
Cook time:
Total time:
Yield:

10

Difficulty:

easy

Recipe type:

Appetizer
Ingredients:
28-ounce can whole tomatoes (peeled) with juice

2 10-ounce cans Rotel (diced tomatoes with habanero chilies)

1/4 cup chopped onion

1 garlic clove, chopped

2 jalapeno, sliced

3 habanero sliced

1/4 cup cilantro

Juice from 1 fresh lime

1/4 tsp salt

1/4 tsp granulated sugar

1/4 tsp ground cumin
Directions:
Add all ingredients to a food processor. Pulse until you get desired consistency (was about 10 pulses for me). Refrigerate for at least one hour, and then serve with your favorite tortilla chips.
Published on by Duane
Tagged: Dips, food processor, Homemade, Hot Peppers, Jalapeno, Salsa Roja, simple, spicy