Years ago I could (and would) eat Dunkin' Donuts almost everyday; now it is the best day ever when I have my hands on delicious D&D's. A few Sunday's ago I had that doughnut craving, so I whipped up these mouth-watering Chocolate Frosted Doughnuts. They are a baked doughnut with a nice fluffy texture and the glaze has a rich chocolate flavor. The recipe given makes 6 doughnuts, but the recipe is easily doubled…which I will do next time. These doughnuts are quick and simple to make, which is perfect for a lazy weekend morning. Writing about it now, there is a serious chance tomorrow I will be eating one of these doughnuts while sipping my coffee and enjoying a lazy morning. I hope you do the same!
Try another doughnut recipe of ours, http://www.muffinsandmeat.com/2014/02/23/baked-chocolate-doughnuts-chocolate-glaze/, awesome for chocolate lovers!
Chocolate Frosted Doughnuts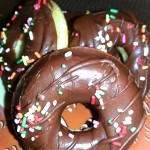 Prep time:
Cook time:
Total time:
Yield:

6

Difficulty:

easy

Recipe type:

Breakfast
Ingredients:
DOUGHNUTS

1 cup cake flour, sifted

1/3 cup + 1 tbs granulated sugar

1 tsp baking powder

1/2 tsp salt

1/3 cup milk

1 egg, beaten

2 tbs butter, melted

CHOCOLATE GLAZE

6 tbs unsalted butter

1/4 cup unsweetened cocoa powder

1/4 cup milk (+ a little depending on the consistency desired)

2-2 1/2 cups confectioners sugar (+ a little more depending on sweetness and consistency desired)
Directions:
Preheat oven to 425°. Spray doughnut pan with cooking spray.
In a medium mixing bowl sift together the flour, baking powder, sugar, and salt.
In a separate small bowl mix the milk, egg, and butter. Add it to the sifted dry ingredients and stir until combined.
Pipe or scoop into the doughnut pan until each cavity is about 2/3 full.
Bake for 7-9 minutes. Allow to cool slightly, remove from pan and place onto a cooling rack.
FOR GLAZE
Melt butter; whisk in cocoa powder.
Add 1 cup of confectioner sugar and half of the milk. Mix well.
Add another cup of confectioner sugar and the remaining milk. Continue to mix. If it isn't sweet enough add more sugar and add milk accordingly to achieve the desired consistency.
Once the glaze is finished, dip the tops of the doughnuts into the chocolate and garnish with sprinkles (optional).
Published on by Lauren
Tagged: breakfast, chocolate, chocolate glaze, doughnuts, simple