It's National Nutrition Month and I am hosting a Kids in the Kitchen along with a special guest nutritionist, Martie Slaughter. We are discussing
healthy choices and healthy snacks. One of my faves are smoothies; so I decided to make a Berry Kale Fruit Smoothie (with spinach). It's hard getting kids to eat vegetables, so what better way to get them to start eating healthier, than by making a fruit and veggie shake!If you really have trouble getting your children to eat fruits and veggies try giving the smoothie a silly name or serving it with a silly straw. What is great about this recipe is that it has a decent serving size of greens, but because of the black and blue berries it gives the shake a more pleasant color.
This is my favorite shake and I have one almost every morning. I am not big on cooked veggies but I love them raw…. even more…. I love them blended with fruit!
There are so many smoothie recipes I love, so keep a look out for more!
Berry Kale Fruit Smoothie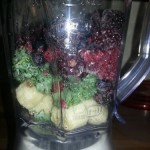 Prep time:
Cook time:
Total time:
Yield:

4

Difficulty:

easy

Recipe type:

Breakfast
Ingredients:
1.5 banana, sliced

2 cups mixed berry fruit, frozen (If fruit is in season I use some fresh fruit as well as frozen)

1 piece kale, chopped

handful spinach leaves, chopped

1 cup orange juice (or juice of your choice, I personally like OJ)
Directions:
Wash all fresh fruit and veggies
Cut banana into quarters and break the kale and spinach up in to tiny pieces. Add to blender.
Add frozen fruit (or fresh fruit) and the orange juice. The orange juice should cover the bananas and greens.
Blend on medium speed (or if your blender has "smoothie" function) until smooth. Make sure it is fully incorporated.
Pour and serve immediately.
Published on by Lauren
Tagged: fruit, fruit shake, healthy, Kids in the Kitchen, veggies