A big thank you to Winter Storm Titan for giving me a surprise day off; and to try to make it a productive day I made a list of things to get done. Among the many things that I did not do; finishing this post was on that list. Finally, I decided that if I was going to do at least one thing today, it was going to be this recipe. So
while I am drinking my hot chocolate, watching Restaurant Stake-Out, and eating my cookies, I am getting to work.
Having an Italian grandma who made pasta every Thursday and Sunday with enough leftovers for Friday and Monday; pasta was a staple growing up. My grandmother, whose family is from Naples Italy, had the best sauce (or aka "gravy"). When I graduated college, I asked her for her recipe. Of course there was no real "written" recipe but she gave me the ingredients and I ran with it. I promised I wouldn't give out the original, so this homemade sauce is an adaptation.
Like most family "secret" recipes, all of the spices are measured by sight and taste. Not only that but I continuously add spices throughout the cooking process. Start off adding a small amount of spice at a time and add as needed. I also recommend doing the same when it comes to adding water. I like my sauce on the thin side; so if you like yours thick, use less water.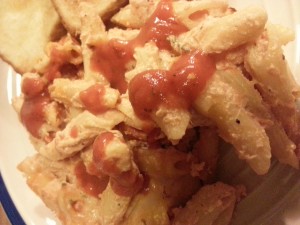 Growing up with homemade sauce, I became a sauce snob. I do not think I could ever buy jar sauce and I don't know how I ever did. This is such an amazing recipe and if I am telling you that, you know it's good!
Homemade Baked Ziti with Sauce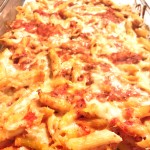 Prep time:
Cook time:
Total time:
Yield:

8

Difficulty:

easy

Recipe type:

Dinner
Ingredients:
1 tbs olive oil

4 fresh garlic cloves; diced

FOR THE SAUCE

29 oz tomato puree (we used Red Pack)

4 oz of water; or to your preferred thickness of sauce. (More water=thinner sauce)

1 med size bay leaf

pinch of kosher salt

pinch of sugar

oregano

parsley

black pepper

garlic powder

red pepper flakes

FOR THE ZITI

1 box (1lb) of ziti; cooked

1 egg, beaten

15 oz ricotta cheese

2 cups mozzarella cheese; divided

1 cup parmesan cheese
Directions:
MAKING THE SAUCE
In a non stick pan, add 1 tbs olive oil and diced garlic cloves. Saute until light brown.
In a medium sized sauce pan, pour in the tomato puree, water, and sauteed garlic. Place the sauce pan on burner at medium heat. Add 1 bay leaf, a pinch of kosher salt, and a pinch of sugar. Stir
Add the remaining spices to the sauce, to taste. Stir to incorporate.
Bring the sauce to a simmer and cover. Allow the sauce to cook for 25-30 minutes.
MAKING THE PASTA
Preheat oven to 350 degrees. Spray 9×13 pan with cooking spray and set aside.
Follow the directions on the 1lb box of ziti. Drain and pour into a large bowl or return to the pot. Add 1 cup of shredded mozzarella, 1 cup of Parmesan, the 15oz container of ricotta cheese, and beaten egg. Thoroughly combine. Add half of the sauce, continue until fully incorporated.
Add the pasta mixture to your 9×13 pan. You can do 1 of 2 things next. 1. You can pour the remainder of the sauce on top of the pasta and then add the remaining cup of mozzarella cheese. OR, 2. Drizzle some of the remaining sauce over top the pasta (leaving a little sauce to pour over the ziti after it comes out of the oven) then add the remaining mozzarella cheese. I made mine the second way.
Bake for 30 minutes.
Remove from oven, serve, and enjoy!
Published on by Lauren
Tagged: Cheese, dinner, homemade sauce, Italian, Mozzarella cheese, Pasta, Ziti