I love each part of this recipe; coconut, curry and chicken….how could it NOT be good? Over the summer Duane had made coconut curry chicken strips; http://www.muffinsandmeat.com/2013/08/27/coconut-curry-chicken-strips/ and they were delicious. He does so much of the cooking, the other night I decided to make dinner for him. I made coconut curry chicken, but instead of strips they were small cutlets. Also, instead of using only coconut for the breading, I incorporated breadcrumbs and more spices. I also used peanut oil instead of canola, but you can use the oil of your choice.
I served the chicken with Duane's Spicy Chinese Peanut Noodles; (http://www.muffinsandmeat.com/2013/08/29/spicy-chinese-peanut-noodles/), which he made; so I guess he didn't have the night off from making dinner. These are my favorite noodles and I think they work with everything.
With the flavors from the chicken and the noodles I don't think you need a dipping sauce. However, if you choose to use one I suggest a Habanero, I think it mixes well with the coconut. I love this recipe, and I know it will be used often!
Coconut Curry Chicken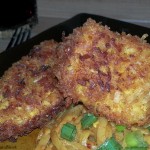 Prep time:
Cook time:
Total time:
Yield:

4

Difficulty:

easy

Recipe type:

dinner
Ingredients:
2 pound chicken tenderloins; skinless and boneless (or chicken breast sliced in half to reduce thickness , then cut into small cutlets)

1 1/2 cup coconut flakes, sweetened

1/2 cup chipolte panko

1/4 teaspoon cayenne pepper

1/4 teaspoon garlic salt

1/4 teaspoon onion powder

4 tsp hot madaras curry powder; divided

peanut oil, or oil of your choice

1 egg, beaten

1 cup all purpose flour
Directions:
Clean and cut chicken into small cutlets.
In a medium sized bowl combine coconut flakes, panko, cayenne pepper, garlic salt, onion powder, and 2 tsp curry powder. Set aside.
In a small bowl beat egg and mix in 1 tsp curry powder. Set aside.
In another small bowl add flour and the remaining tsp of curry.
One cutlet at a time: coat with flour, then dip in the egg mixture, and finish by thoroughly coating with the breadcrumb mixture. Place on a plate.
Fill a stainless steel or cast iron skillet with a 1/4 inch of oil, and bring the temperature to medium heat, 350 degrees.
To fry the strips, work in batches by adding about 3 strips into the hot oil, and allow them to fry for about 3-4 minutes each side or until thoroughly cooked, moving them very gently every now and then, until they are a deep, golden color; remove from oil and place onto a paper towel-lined platter to drain. Repeat process until all the chicken has been fried. You may need to remove pieces of coconut breading that has fallen into the oil.
Once all the chicken is finished, serve and enjoy.
Published on by Lauren
Tagged: Asian, coconut, crispy, Curry, dinner, fried chicken, quick, simple, spicy