Cookies go so fast in this house and these Espresso and Dark Chocolate Cookies were no exception. I was lucky to get pictures before they were all gone, yes they were that good. I found the recipe for these cookies in the book Slicethat I had checked out at the library. I want to try so many of the recipes, but I am going to admit it; the book is already overdue.
For this particular recipe in Slice they did not give a picture of the finished product. Which is a bummer because I always want to see if mine looks like theirs; in my head I nailed it. As soon as I was finishing forming the rolls (you'll see in directions) I had this great idea for next time. Honestly, trying this recipe gave me a lot of ideas to try next time…and then the next time. It is a very versatile recipe and I can't wait to see everything I can do with it.
Espresso and Dark Chocolate Cookies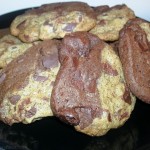 Prep time:
Cook time:
Total time:
Yield:

26

Difficulty:

easy

Recipe type:

Dessert
Ingredients:
1 1/4 unbleached all-purpose flour

1/2 tsp baking soda

1/2 tsp salt

1/2 cup unsalted butter, at room temperature

1/2 cup firmly packed light brown sugar

6 tbs granulated sugar

1 egg

1 tsp vanilla extract

2 tbs unsweetened-Dutch-process cocoa powder, sifted

2 cups semi sweet chocolate chips

1 1/2 tsp instant espresso powder

1 tbs water
Directions:
Sift the flour, baking soda, and salt into a medium bowl. Set aside.
Put the butter, brown sugar, and granulated sugar in a medium size bowl. Using an electric mixer (or standing), beat on medium speed until smoothly blended, about 1 minute. Stop the mixer and scrape the sides of the bowl as needed. Mix in the egg and vanilla until blended, about 1 min. Reduce the speed to low, add the flour mixture, and mix just until incorporated.
Transfer half of the dough to a medium bowl and set aside. Using the electric mixer on low speed, add the cocoa powder to the remaining dough and mix just until incorporated. Add 1cup of the chocolate chips and mix just until evenly distributed. Set aside.
Dissolve the espresso in the water, then add it to the dough in the medium bowl and stir with a large spoon just until incorporated. Add the remaining 1 cup of chocolate chips and stir just until evenly distributed. You will have a bowl of chocolate dough and a bowl of coffee-flavored dough.
Divide the chocolate dough into two equal parts. Put each on a large piece of plastic wrap and form into a log 8 1/2in long and 1 1/2in in diameter. Divide the coffee dough into two equal parts and form each into a log the same size as the chocolate logs. Using a small spoon or your fingers, press a slight indentation along the length of each chocolate log to form two double-colored logs. Roll each back and forth to form a smooth cylinder, then wrap in the plastic wrap. Refrigerate for at least 3 hours or overnight (we did overnight), until firm, or wrap aluminum foil over the plastic wrap and freeze for up to 2 months.
When ready to bake the cookies, position a rack in the middle of the oven. Preheat the oven to 350 degrees. Line baking sheet with parchment paper.
Use a large, sharp knife and in a sawing motion, cut each log into 12-14 slices. Place the cookies 2in apart on the baking sheet. If pieces crumble, press them back together. This happened a lot to me.
Bake the cookies until the edges are firm but the centers feel soft if touched lightly, about 11-13 min.
Let cool on the baking sheet for 10 minutes. Use a wide metal spatula to transfer the cookies to a wire rack to cool completely.
The cookies can be stored in a tightly covered container at room temperature for up to 3 days.
Published on by Lauren
Tagged: chocolate, Chocolate Chip, dessert, espresso