I love cooking wings, there are so many flavors to work with and different methods to use when cooking. We like our wings on the spicy side, but these Sweet Chili Wings give you sweet flavor with a little kick. I used to boil wings for about 10 to 15 min to render some of the fat off of them, which works very well. After boiling I would put them on the grill while basting often. This time I let the wings cook in a 5 qt (a 4 qt will fit 3 lbs of chicken too) slow cooker for 3.5-4 hours and then threw them on the grill. By putting the wings in the slow cooker, the wings became extremely tender and fell right off the bone. This is one of the things Lauren liked best. I really like the slow cooker method, and recommend it if you have the time.
With the Super Bowl coming next week, this would be a perfect party food! We also have a 7 qt slow cooker which allows to make larger quantities, up to about 7-8 lbs of chicken. I think for the big game I am going to experiment with a spicier sauce.
Are you making wings for the Super Bowl? What kind of sauce do you use?
Slow Cooker Sweet Chili Wings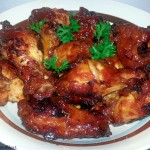 Prep time:
Cook time:
Total time:
Yield:

3

Difficulty:

easy

Recipe type:

Appetizer
Ingredients:
3 lb cleaned chicken wings

SAUCE

1 cup soy sauce (we use low sodium)

1 cup honey

1/2 cup sriracha

2 jalapenos, minced

2 garlic cloves minced
Directions:
Wash chicken; split into wingettes and drummettes.
Mix all sauce ingredients together, stir until well combined.
Place the chicken wings in a slow cooker. Pour sauce over.
Once everything is in the slow cooker mix to coat chicken. Most of your wings should be submersed in the sauce.
Cook on high until wings are tender. About 3.5/4 hrs.
Heat grill to medium high heat.
Take chicken wings out of slow cooker and set aside.
Take the sauce that is in the slow cooker and bring to a boil in a sauce pan for about 10 min.
By now the grill should be ready. Add wings to grill and baste with left over sauce.
Grill on each side, basting often, until your desired crispiness. Remove from grill.
Published on by Duane
Tagged: Appetizer, crock pot, dinner, grill, party food, slow cooker, spicy, Sweet