I love breakfast food but it is rare that I can get motivated to make breakfast; so on Sunday when I had the craving for chocolate pancakes I decided to make them right away before I lost the desire. I decided to browse Pinterest in hopes of finding a great idea for something a little different. I saw that someone had posted a "hot cocoa pancake" picture but with out a recipe attached, so I decided to wing it.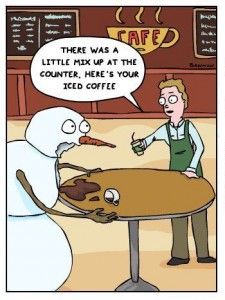 When I was making the first batch I really didn't think they were going to come out right. At one point I even told Duane I didn't think I would be eating pancakes that morning. For some reason the coloring threw me off and I didn't think they were cooking right. Duane reassured me that it was just the coloring….and he was right. They cooked perfectly.
I love these pancakes so much, I could literally eat these every day. Duane doesn't eat that much chocolate and he really liked these so that is definitely saying A LOT. Since it is a sugar overload I will not make these again any time soon, but I am really looking forward to the next time I do!
If you want to try a not so chocolatey pancake recipe, check out our old-fashioned pancake recipe http://www.muffinsandmeat.com/2013/08/26/old-fashioned-pancakes/.
These pancakes would be great topped with: marshmallows, chocolate syrup, whip cream, powdered sugar and fresh berries. Since this was a spare the moment brunch I used what I had, maple syrup and powdered sugar which I proceeded to spill all over the plate.
Hot Chocolate Pancakes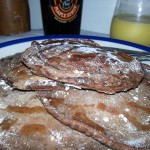 Prep time:
Cook time:
Total time:
Yield:

2

Difficulty:

easy

Recipe type:

Breakfast
Ingredients:
3/4 cup plus 1 tbs milk we use 2%

2 packets hot cocoa mix, we used Swiss Miss

2 tbs butter, melted

1⅓ cups all-purpose flour

2 tsp baking powder

½ tsp salt

2 tbs granulated sugar

1 tsp vanilla

1 egg

1/2 tsp cinnamon

2 tbs water

1 tsp Hershey's chocolate powder (optional if you want yours chocolatey)

1 tbs marshmallow fluff (optional)

handful white chocolate chips (optional)

Toppings (optional) I went with powdered sugar and a little maple syrup
Directions:
In a medium size bowl, incorporate flour, 1 packet of cocoa powder, baking powder, salt, and sugar. Set aside.
In a small saucepan over low heat, prepare 1 cup of hot chocolate using milk . Add an additional packet of cocoa mix; continuously whisk until it is warm, then remove from heat continue to wisk until the the chocolate has dissolved into the milk. Add melted butter; let cool slightly then add to the flour mixture and combine.
Add water, egg, cinnamon and vanilla. Whisk until fully incorporated. If you are using optional ingredients add them now.
In a non stick pan over medium low heat, pour in pancake batter of your desired size. Cook until you can move the pancake with the spatula, when it is firm it is ready to flip.
Cook 2-3 minutes a side or until your desired darkness.
Remove, let cool, and add your favorite toppings.
Published on by Lauren
Tagged: breakfast, chocolate, hot cocoa, marshmallow, white chocolate