Continuing my love for Asian cuisine, last week I made sesame chicken. The cooking process for the sesame chicken is like that of both my General Tso's and Hot as Hell Chicken (Check out those posts!!!!). We wanted to make something that wasn't too spicy but flavorful, and I definitely succeeded. We served this over rice, but it would be just as good with noodles (I prefer noodles over rice). We used a deep fryer to cook the chicken, but if you do not have access to one, you can use a wok and fill it enough to cover the chicken in the oil of your preference.
We really enjoyed this meal and I definitely recommend it!
Sesame Chicken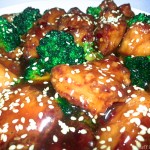 Prep time:
Cook time:
Total time:
Yield:

4

Difficulty:

easy

Recipe type:

Dinner
Ingredients:
2-2.5lbs boneless, skinless chicken breasts

1 1/2 cup cornstarch

salt and pepper

Canola oil for deep fryer (or wok)

1 tbs sesame oil

MARINADE

1 tbs low sodium soy sauce

1 tbs Chinese rice wine or dry sherry

1 tbs sriracha

2 large egg whites

1 tsp white sesame seeds

SAUCE

2 cups water

1/2 cup sugar

3 Tbsp. soy sauce

3 Tbsp. oyster sauce

3/4 tsp. garlic powder

3 Tbsp. cornstarch

1-1/2 cups broccoli, cut into small florets
Directions:
MARINATE THE CHICKEN: In a large bowl, combine the soy sauce, rice wine, sriracha and egg whites. Add the chicken and stir gently to coat. Let stand at room temperature for 10 minutes.
In a small dry pan, toast the sesame seeds for about 1 minute, until they become lightly brown and aromatic. Transfer to a dish and set aside.
Toss the 1 1/2 cups cornstarch with the salt and pepper in a large bowl or deep plate. Coat the marinated chicken in the cornstarch mixture and shake off any excess before frying. Set the temperature of the deep fryer at 350 deg
If you do not have a deep fryer: Heat the oil in a wok or heavy-bottomed pot until it registers 350F on an oil thermometer, or about medium heat.
Working in 2 or 3 batches, add the first batch of chicken cubes and deep fry until lightly golden on the outside and cooked through, 3 to 4 minutes. Remove the chicken with a slotted spoon and drain on a plate lined with paper towels. Repeat with the rest of the chicken. (Optional: To get the chicken extra crispy, allow the chicken to drain and cool for 5 minutes, then put the chicken back in the wok or deep fryer to fry for about another 30 seconds, until golden brown.)
Stir fry broccoli florets in a tbs of sesame oil until desired tenderness.
SAUCE: Mix water, sugar, soy sauce, oyster sauce, garlic powder and cornstarch in a small saucepan. Stir over medium-high heat until thickened (as it thickens the color will become darker). Pour over browned chicken and broccoli. Stir to combine and simmer about 3 minutes.
Remove from heat and sprinkle with toasted sesame seeds.
Published on by Duane