It is the last night of my "stay"cation and I told myself I would post at least one recipe before going back to work on Saturday. With the hours dwindling down until bedtime, and nothing posted so far; I am finally getting back to work on this recipe for Easy Chocolate Fudge.
I love putting together tins full of treats for the holidays and this year one of the goodies I put inside was chocolate fudge. This is a very easy recipe for a very decadent dessert. If you love dark chocolate, you will absolutely love this fudge! For fun I chopped up M&M's and put them in half of the fudge and decorated the top with holiday sprinkles before placing in the fridge.
Easy Chocolate Fudge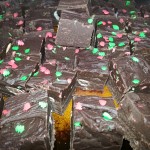 Prep time:
Cook time:
Total time:
Yield:

34

Difficulty:

easy

Recipe type:

Dessert
Ingredients:
1 (14-ounce) can sweetened condensed milk

1 teaspoon vanilla extract

2 ½ cups semisweet chocolate chips

3 tablespoons unsalted butter, cut into 1/2-inch pieces, at room temperature

2 tablespoons cocoa powder
Directions:
Line an 8 x 8-inch or 9×9 baking pan with a sheet of aluminum foil and set aside.
In a stainless steel bowl, combine the condensed milk, vanilla, chocolate chips, and butter.
Put the bowl on a saucepan of simmering water (double boiler method, see picture above) and mix until the chocolate chips have melted and the mixture is smooth, about 6 to 8 minutes (mixture will be thick). Stir in cocoa powder; using a spatula, scrape the mixture into the prepared pan and smooth the top. Refrigerate for at least 2 hours or until firm.
Remove the fudge from the pan and aluminum foil; transfer the fudge to a cutting board. Cut the fudge into bite-sized pieces and store refrigerated in an airtight container or freeze.
Published on by Lauren