We've been back from New York for over a week now, while the time spent at the house in NY felt like a sitcom and our Thanksgiving dinner leaves a lot to be desired (explanation in separate post), our time in the city was awesome! There are so many deliciously comical things that occurred on our trip, that I am dedicating a separate post specifically to it.
Before we left I made a batch of Spicy Chocolate Cookies and I loved them so much I wanted to try another spicy dessert. Just so happens, last Friday Betty Crocker The Big Book of Cakes (Betty Crocker Big Book) came in for me at work. I really didn't think they would have a recipe for a spicy cake, but surprisingly, they had two. I decided to make this recipe for Spicy Brownie Cake this weekend, and I'll give the other one a shot next time.
I LOVE spicy food, so when I made these spicy brownies I added more cayenne pepper than what the recipe called for. When I tasted the batter (I know, I know salmonella, but I can't help it) I liked the amount of spice, but I knew not everyone I was planning on sharing with would. To help balance the spice out I added sweetened shredded coconut. It did help cut the level of spice, but even more, it added a crunch to the spicy brownie that I really liked. Next time I make them I am going to stick to the amount of cayenne that the recipe calls for (well maybe a pinch more) and still keep the coconut.
In the recipe below the amount of cayenne given is the amount called for in the book.
I really like this spicy brownie recipe and I see myself playing around with it in the near future….hmm, a chewy spicy brownie next time? 🙂
Spicy Mexican Brownie Cake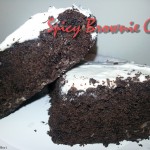 Prep time:
Cook time:
Total time:
Yield:

15

Difficulty:

easy

Recipe type:

Dessert
Ingredients:
CAKE

1 1/4 cups butter, softened

3/4 cup unsweetened baking cocoa

4 eggs

2 cups granulated sugar

1 1/2 cups all-purpose flour

1 1/2 tsp baking powder

1 tsp ground cinnamon

1/4 tsp plus 1/8 tsp cayenne pepper (I used 1/2 tsp plus 1/8 tsp)

1/4 tsp salt

1/2 cup milk (I used 2%)

1 tbs vanilla

coconut (I added a coconut layer to add a little more sweetness)

FROSTING

1/3 cup butter, softened

1/3 cup crema (Mexican-style cream) OR sound cream

1/4 ground cinnamon

3/4 tsp vanilla

4 cups powdered sugar

1 to 2 tsp milk (I used 2%)

unsweetened cocoa powder, for sprinkling on top (optional)
Directions:
Heat oven to 350 degrees F. Grease bottom and sides of a 13 x 9-inch pan with shortening; lightly flour. In small bowl, stir 1 1/4 cups butter and 3/4 cup cocoa until blended. In large bowl, beat eggs with electric mixer on high speed 3 minutes. On low speed, beat in remaining cake ingredients and cocoa mixture just until blended. Because I added more cayenne pepper than what was called for, I added a thin layer of coconut to add a little more sweetness to the spicy brownie. If you do not want to add coconut, once the mixture is blended, spread in pan.
If you are adding a coconut layer, pour a small amount of batter into your prepared pan. With a rubber spatula, spread the batter so that there is only a very thin layer of batter covering the pan. Sprinkle sweetened coconut shreds over the chocolate. Spoon in the remaining batter covering the coconut.
Bake 35 to 40 minutes or until top edge of cake just begins to pull away from sides of pan. Cool completely in pan on cooling rack, about 2 hours.
FROSTING
In large bowl, beat 1/2 cup butter with electric mixer on medium speed until fluffy. Beat in crema (or sour cream), 1/4 tsp cinnamon, and 3/4 tsp vanilla until light and fluffy, scraping bowl as needed. On low speed, add powdered sugar, 1 cup at a time, scraping bowl occasionally. Stir in milk, 1 tsp at a time, until smooth and spreadable. Frost cake. Sprinkle lightly with cocoa. (optional)
Store in refrigerator.
Published on by Lauren