We only have 2 days left before we leave for New York (YAY!) I CAN NOT wait to get there. However I am worried about the drive on Wednesday with the big storm we are supposed to have. Since the temperature is going to be below freezing over the weekend I am staying up late washing sweaters and pulling out scarves. I couldn't be happier about it.
When we were up over 4th of July weekend we went on a mini "food tour" of places that have been featured on some of our favorite food shows. Time always flies in the city so we did not get to go to as many as we had hoped, so this time we are hoping to fit as much in as possible. Any suggestions on any spectacular restaurants we should try?
So about these delicious Chili Chocolate Cookies, they are my new favorite. I say that a lot, and I mean it each time, especially this time! Spicy chocolate is delicious, and if you have never had it before take a trip to the super market and pick up a bar. Lindt makes a good one, and you will be so happy I told you to do so! A month ago I chopped up a Lindt Chili Chocolate bar and put it in chocolate chip cookie dough and I thought to myself…how have I not done this before???? I told myself after that I was going to make a spicy cookie, and here it is!
Chili Chocolate Cookies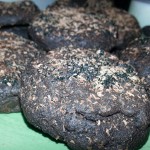 Prep time:
Cook time:
Total time:
Yield:

24

Difficulty:

easy

Recipe type:

Dessert
Ingredients:
3/4 cup unsalted butter, at room temperature

1 cup brown sugar

3/4 cup sugar

2 large eggs

1 teaspoon vanilla extract

2 cups all-purpose flour

2/3 cup cocoa powder

1/2 teaspoon ground cinnamon

1 1/2 tsp ground cayanne pepper (I added a few extra shakes)

1/2 teaspoon salt

1/3 tsp baking soda

1 3.5 chili chocolate bar, chopped (save a little to grate over top the cookies)

large sugar crystals (optional)
Directions:
Preheat oven to 350 degrees F. Line a sheet pan with parchment paper.
In a medium bowl, add butter and sugars and beat together with a hand mixer, until pale and creamy, about 3 minutes. Add the eggs one at a time, mixing after each. Add the vanilla extract.
In a separate bowl, sift and strain together three times the flour, cocoa powder, cinnamon, cayenne pepper, baking soda, and salt. Add to the mixer and mix until combined. Fold in chopped chili chocolate with a rubber spatula.
Roll into rounded tablespoons (I used an ice cream scooper) and dip the top of the cookie in the coarse sugar, if desired. Place on the prepared sheet and lightly press down. Bake until tops are cracked and edges are set, 9-11 minutes. Let cool on the sheet pan for 5 minutes, then transfer to a wire rack to cool completely.
Published on by Lauren
Tagged: chocolate, Chocolate Chip, decadent, dessert, Hot Peppers, spicy