I found a recipe for a Curried Turkey Burger in Rachel Ray's, The Book of Burger but Lauren and I aren't huge fans of ground turkey so I decided to make the burger a ground curry chicken burger instead. This is the first chicken burger Lauren and I have ever had, and it was amazing! The Curry Chicken Burger is bursting with spicy flavors. Using the Hot Madras Curry Powder in place of the regular Curry Powder really makes a difference.
After trying this recipe, and loving it, I can't wait to experiment more with ground chicken. I might even try this recipe with turkey, with how good the flavor is, I don't know how it couldn't be good!
I highly recommend this recipe to anyone; if you have never tried a chicken burger (like us) you MUST try this! Let us know what you think!
If you have any chicken burger recipes you would like to share, contact us!
Curried Chicken Burgers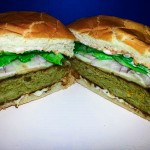 Prep time:
Cook time:
Total time:
Yield:

4

Difficulty:

easy

Recipe type:

Dinner
Ingredients:
1 lb ground chicken

2 tbs Hot Madras Curry Powder (this is a spicier curry) but you can use a regular curry powder

2 tbs Worcestershire sauce

3 garlic cloves minced, sauteed

dried arbol peppers, sauteed (optional)

Kosher salt and pepper to taste

4 rolls split

Your favorite burger toppings

(If you are are using a stove top you will need 1 tbs butter and 1 tbs oil for your skillet)

1 tbs olive oil (for sauteing)
Directions:
chop dried arbol peppers and mince garlic. Add 1 tbs olive oil into a non stick frying pan and sautee the garlic and peppers.
In a large bowl, combine the chicken, curry powder, Worcestershire sauce, garlic, and sauteed mixture. Season with salt and pepper and mix thoroughly. Score the mixture into 4 equal portions and form them into patties slightly thinner at the center than at the edges for even cooking and to ensure a flat surface (burgers plump as they cook).
(if grilling):Heat grill medium-high heat, grill 5-6 minutes a side or until juices run clear. The patties are very tender so make sure they are done on one side before flipping.
(If using stove top) Heat the oil, over medium high heat in a large nonstick skillet. Melt the butter into the oil. Cook the burgers, flipping once; 10 to 12 minutes, or until the juices run clear.
Place the burgers on the roll bottoms and top with your with your favorite toppings.
Published on by Duane